How to Catch A Star
Australian Chamber Orchestra
Fri 14 - Sat 15 Jun 2024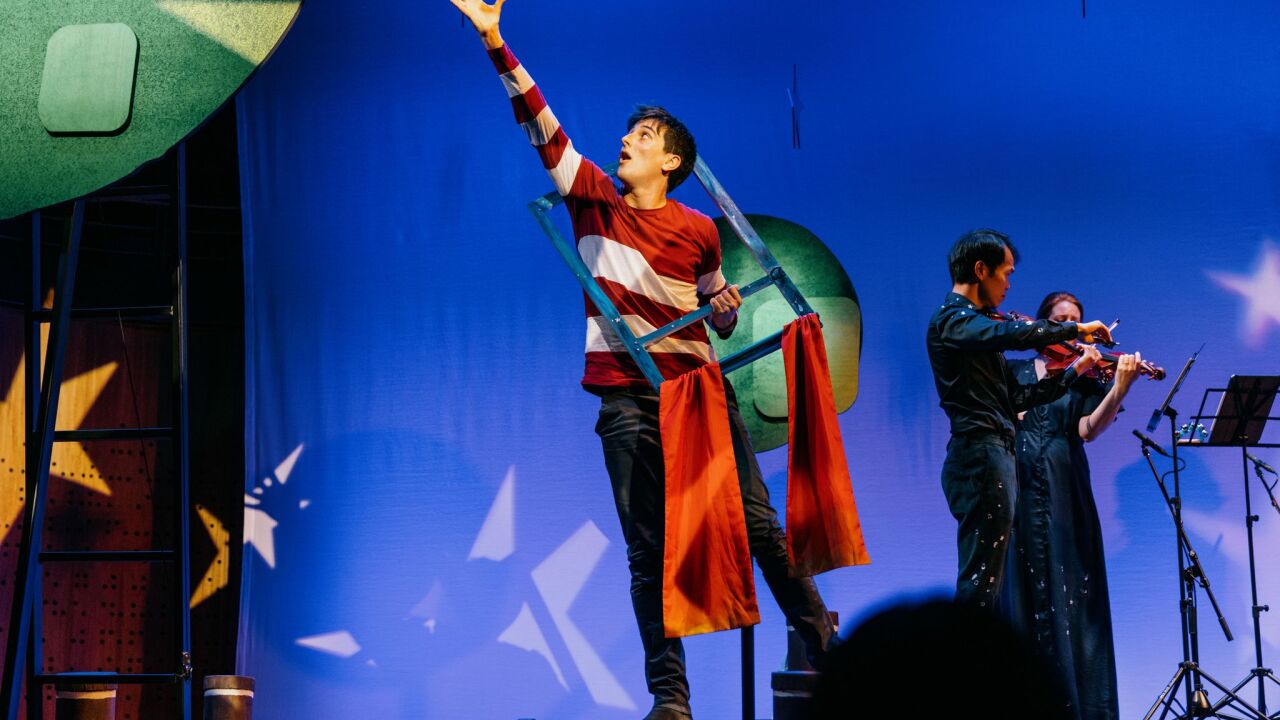 How to Catch A Star
Once there was a boy and the boy loved stars very much. Every night he watched the stars from his window and wished he had one of his own. One day, he decided he would try to catch a star… but first he had to think of a plan…
Based on the book by international best-selling author Oliver Jeffers, How to Catch a Star is brand new ACO Families production which will take you on a journey from awe and wonder, through perseverance to triumph. In a stunning adaptation by Sandra Eldridge, Jeffers' magical tale about reaching for dreams will be brought to life on stage through storytelling and exquisite new music by Elena Kats-Chernin performed by an ACO string quartet. This enchanting performance will leave audiences of all ages filled with hope and optimism.
'The music was fabulous, the set was perfect, the script was terrific and the actor was marvellous. I couldn't speak more highly of the whole experience' (ACO Audience Member)
'I think it's something we can all identify with: It's about a boy looking for a friend. There's a sense of wonder, of trying to achieve something big.' (Elena Kats-Chernin)
'The wonder of the book is captured through the finely composed art of the music, an exceptional ACO string quartet, movement, dialogue, and simple puppetry by a multi-talented performer portraying the boy. This is a joyous piece of theatre for all the family, but especially those who still every night wish upon a star.' (Sandra Eldridge) 
There will be an Auslan Interpreted performance at 10am on Fri 14 June. When booking select the Auslan reserved seats when purchasing your tickets. If you require any assistant contact Box Office at boxoffice@hota.com.au or give them a call on (07) 5588 4000.
Links to Curriculum
English F- 4
Literature in Context, Responding to literature, Examining literature.  
Drama F-4
Explore meaning and interpretation, forms and elements including voice, movement, situation, time and place, and tension when making and responding to drama. 
Music F-4
Develop aural skills by exploring, imitating and recognising elements of music including dynamics, pitch and rhythm patterns.
Identify intended purposes and meanings as they listen to music using the elements of music to make comparisons, starting with Australian music. 
General Capabilities:  Critical and Creative Thinking, Ethical Understanding, Personal and Social. 
Recommended ages 3+.
Please complete the below form to inquire about experiencing HOTA Theatre Education Programs.
School Bookings
Subscribe now for Art in your inbox
News, special offers, events, competitions, and arts & culture updates on the Gold Coast. All the good stuff.