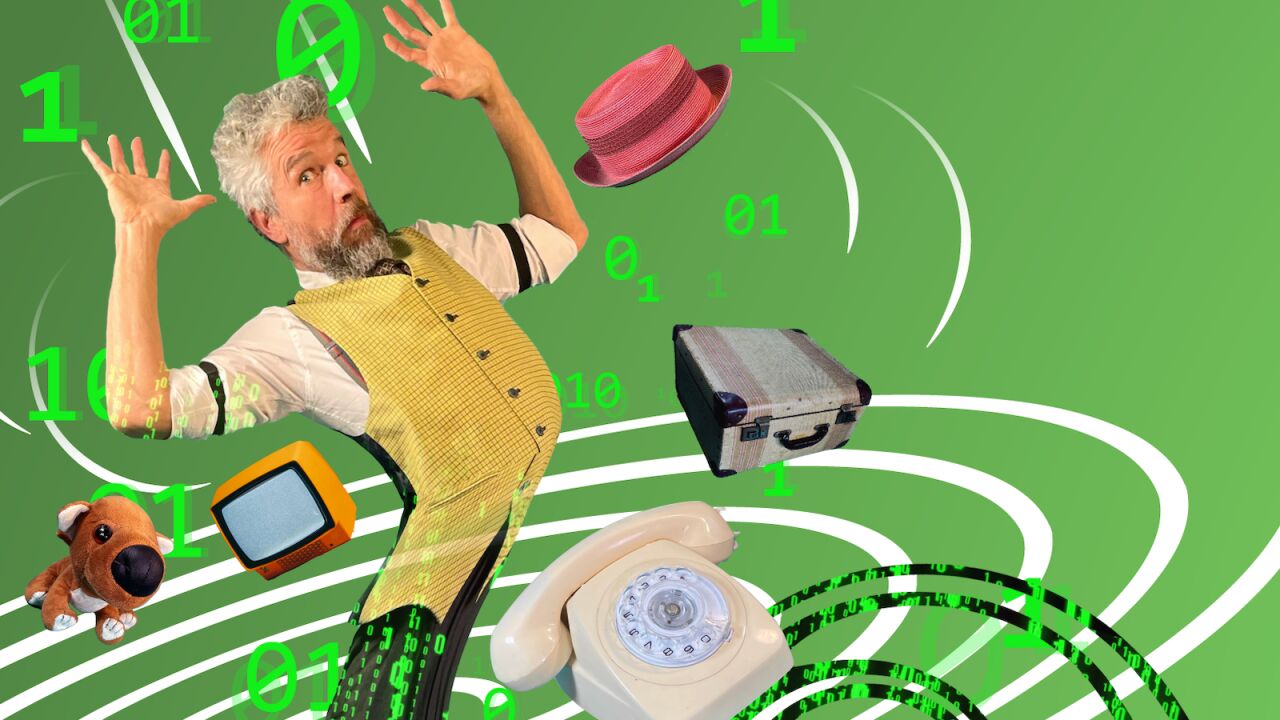 Whalebone
Nominated for the Green Room Awards, Best Set and Costume Design Welcome to the 'Depository', a mysterious bureau that's seen better days. The last, rather whimsical worker continues with a wondrous task. With the help of some odd and amazing machinery, he extracts the stories that live in old, discarded objects and safeguards these memories in the magical 'mother of stories', the place where all stories are kept. This strange and vulnerable world starts to fall apart when the place is under attack by a rogue A.I. who tries to install malware…. and only two unlikely buddies can save the 'Depository' and its stories.
Storytelling versus data-management, human versus machine: a gripping and humorous clash between the analog and the digital, told through dazzling video and computer animations, quirky contraptions, robotics, clunky inventions and flying objects. Physical reality turns virtual and back in this family show about what makes us human, the stories we tell, and the artificial intelligence knocking at our doors.
Telling a tale full of magic and action, WHALEBONE is funny, intriguing and touching. It opens the door to a fantastical world where the future of humanity is under scrutiny. Performed by the imaginative mind of clown, tinkerer, inventor and comedian Jens Altheimer, winner of the Adelaide Fringe Award for Best Production for Children with Squaring the Wheel and nominated for the same award with Loose Ends.
'This is the kind of show your kids will love. It is full of junk, fantastical objects, artificial intelligence, drama, thrills and puzzle solving.' Samsara Dunston ★ ★ ★ ★
Links to Curriculum:
Design and Technologies 3-4:
Examine design and technologies occupations and factors including sustainability that impact on the design of products, services and environments to meet community need.
Use materials, components, tools, equipment and techniques to safely make designed solutions
Science 1-6:
Describe how people use science in their daily lives, including using patterns to make scientific predictions.
Digital Technology 1-6:
Explain how people in design and technologies occupations consider competing factors including sustainability in the design of products, services and environments.
Define problems with given or co-developed design criteria and by creating user stories.
Media 1-6:
Develop media production skills to communicate ideas, perspectives and/or meaning through manipulation of media languages, including images, sounds, texts and/or interactive elements, and media technologies.
Visual Art 1-6:
Explore ways that visual conventions, visual arts processes and materials are combined to communicate ideas, perspectives and/or meaning in visual arts across cultures, times, places and/or other contexts.
General Capabilities: Critical and Creative Thinking, Digital Literacy, Literacy, Numeracy,
Cross-Curriculum Priorities: Sustainability.
Recommended for ages 6+.
Please complete the below form to inquire about experiencing HOTA Theatre Education Programs.
School Bookings
#Dynamic Dominoes and Ramp Adventures
Explore Chain Reactions with Jans Altheimer
9.45am, Tues 10 Sept
Learn about chain reactions in this STEAM workshop. Collaborate in small groups to design a room segment with dominos, VHS tapes, ramps, balls, toy cars, and kinetic elements. Finally, all segments activate a whimsical wake-up contraption at the course's end.
Book Now
Subscribe now for Art in your inbox
News, special offers, events, competitions, and arts & culture updates on the Gold Coast. All the good stuff.