From Campfire to Stage Light
Presented by Jute Theatre Company & Didge-Ralia
Fri 12 Jul 2024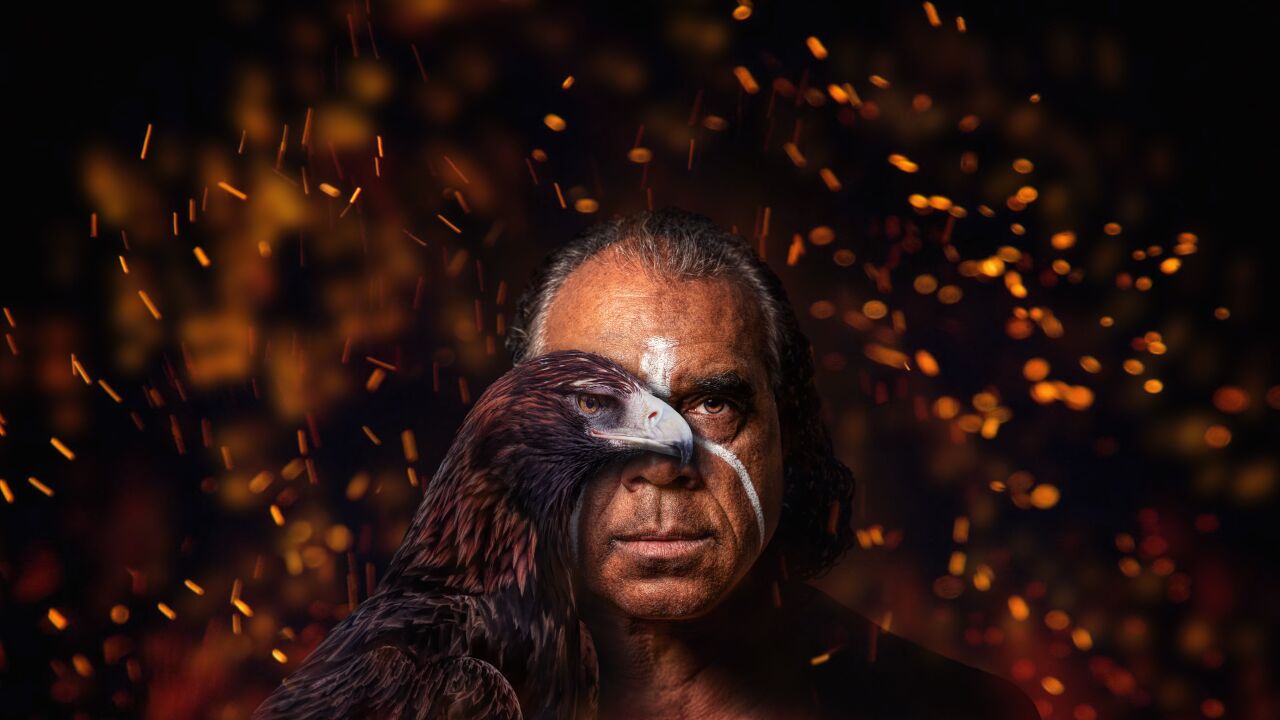 From Campfire to Stage Light
From Campfire to Stage Light is an epic journey toward self-determination and Indigenous pride, as told through the life experience of David Bindi Hudson, well-known and loved cultural leader and global ambassador for Indigenous Australia.

David is the ultimate storyteller, singer-songwriter, dancer, visual artist and actor. The performance is brought to life through storytelling, songs, and extraordinary visual design.

The stories take us from David's traditional lands to the international mega stages as David traversed the world musically, educating people about his culture. He co-founded the award-winning dance troupe 'Tjapukai', whose achievements include being Australia's longest-running theatrical production. David has emerged as a strong cultural leader with a significant arts practice.

This play, directed by nationally recognised First Nations Director, Isaac Drandic, with music and lyrics by Nereace, Nigel Pegrum and David Bindi Hudson, will take the audience on a culturally rich journey of Far North Queensland and the world.

'A captivating Indigenous life story told through words and music.' ArtsHub
Recommended ages 6+

Links to Curriculum:
Aboriginal and Torres Strait Islander perspectives:
Country/Place, Culture and People.
The Arts: Drama 7-10
Investigate the ways that drama created and/or performed by First Nations Australians celebrates and challenges multiple perspectives of Australian identity
The Arts: Music 7-10
Investigate the ways that First Nations Australian performers and/or composers celebrate and challenge multiple perspectives of Australian identity through music
General Drama 11-1

Unit 1: Share and Unit 3: Challenge:
Discuss and reflect on the process of storytelling and its value in diverse cultural contexts, including Aboriginal cultures, Torres Strait Islander cultures and/or Asia–Pacific cultures, in contemporary and historical contexts, and from a range of perspectives.
General Capabilities: Critical and Creative Thinking, Personal and Social.
Cross-Curriculum Priorities: Aboriginal and Torres Strait Islander Histories and Cultures
Please complete the below form to inquire about experiencing HOTA Theatre Education Programs.
School Bookings
Subscribe now for Art in your inbox
News, special offers, events, competitions, and arts & culture updates on the Gold Coast. All the good stuff.