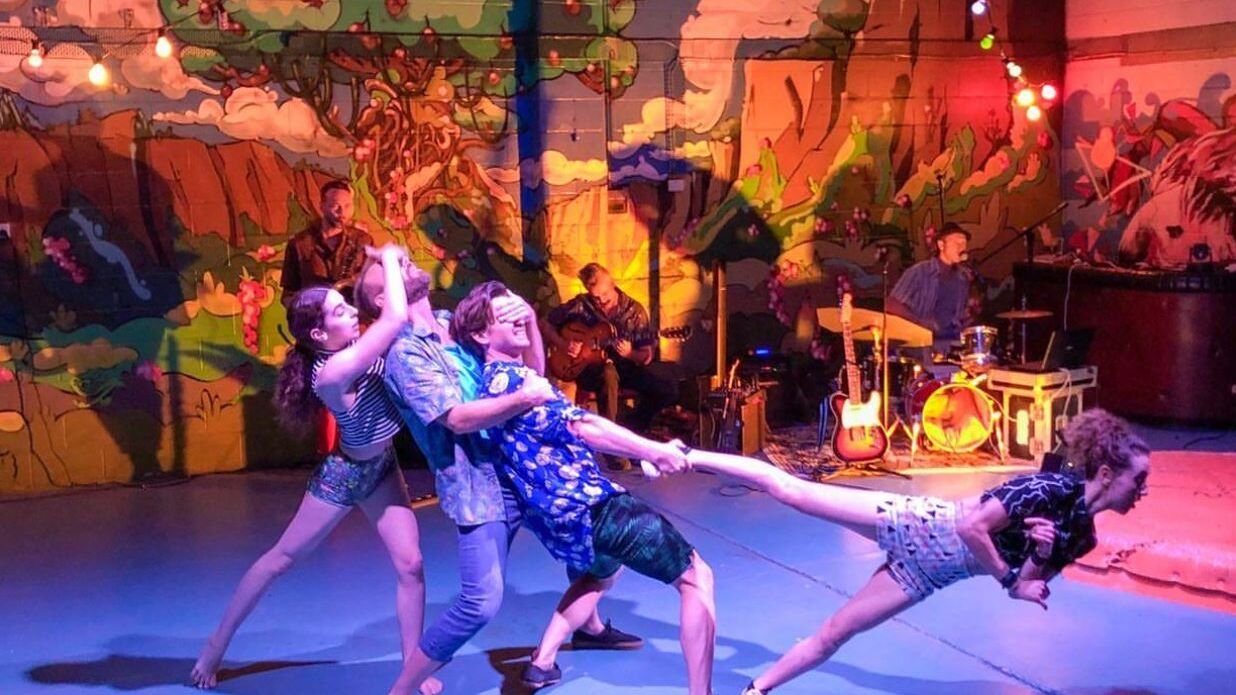 Smash Parade in development at HOTA. One of the ways in which we support local artists is by providing residencies, rehearsal space and technical support to develop new works or further develop existing works. Just now at HOTA a collective of artists are in residency as they develop Smash Parade, a fusion of circus and music.
They'll be on site for 10 days this month and will then present their work in a closed industry showing. Industry showings are a great way for artists to present work in development, gain constructive feedback and also assess the interest for touring or showing the work further once it is completed. The work will also be filmed and shown online on 10 Dec as part of the Digital Motion Awards presented by NYC based platform Motionographer.
And we keeping our fingers crossed that when this work is finished that we will be able to present it in full next year!

David Carberry, one of the creative minds behind this project, told us a little more about Smash Parade and what they hope to achieve through this development:
'First smashed together as an underground cabaret in a backstreet warehouse in West End, Smash parade was a coming together of circus and music artists experimenting with the form of cabaret and attempting to make something unique and entertaining within a short time frame, we had two weeks lead up independently, and a total of one day all together,' he said.
Smash Parade features the incredible sounds of Ben Walsh, Shenzo Gregorio and Nick Campbell, three outstanding musicians and performers who'll set a score of world funk grooves and cinematic sounds.
This will be paired with physical artistry from David Carberry, along with circus artists from the likes of Circa, Gravity and Other Myths, Company 2, 360 All Stars including; Alice Muntz, Ela Bartilomo and Rhys Miller.
David continued: 'Ben Walsh and myself had made several shows together in the past, I had worked with Matt Ottignon on a couple of touring works, Shenzo Gregorio had worked for many years with both musicians, and I had toured and created Alice Muntz too. But the seven of us had never been in a room together and this is what we came up with:
'Smash Parade is a Circus, Absurdist, World-Funk Mash-up. A supreme line up of contemporary circus, physical theatre artists and musicians smashed together and served up in a twisted cut-up concoction. Part gig, part improv theatre, part circus; served up with a slice of psychedelia. This is mash up, improv, underground circus and live music at its finest.'
Residencies to develop work are highly valued by artists as they give the time and space to further develop ideas without the expectation of any predetermined outcome.
'Given the fact that (due to schedules and resources) we had only had a total of two days all together prior to its 2nd preview presentation in January at the Brunswick Picture House, to have some actual time in a venue to develop the work properly is an incredible opportunity, and will really lift the work to a level ready to present to the world,' said David.
There's no doubt artists have felt the impacts of the pandemic this year with many tours being cancelled and plans being put on hold.
David finished: 'We were set to tour the work to New York in 2020 prior to Covid, after our residency and initial presentation at HOTA our hope is that we can come back to HOTA and do a proper public season, to present the show in Queensland, at some select festivals in Australia, and then hopefully one day once things settle down eventually take it over to New York!'
You can see this work live (as part of the Digital Motion Awards presented by Motionographer) on 10 Dec by registering here.
Art in your inbox
Get the best of HOTA delivered straight to your inbox.