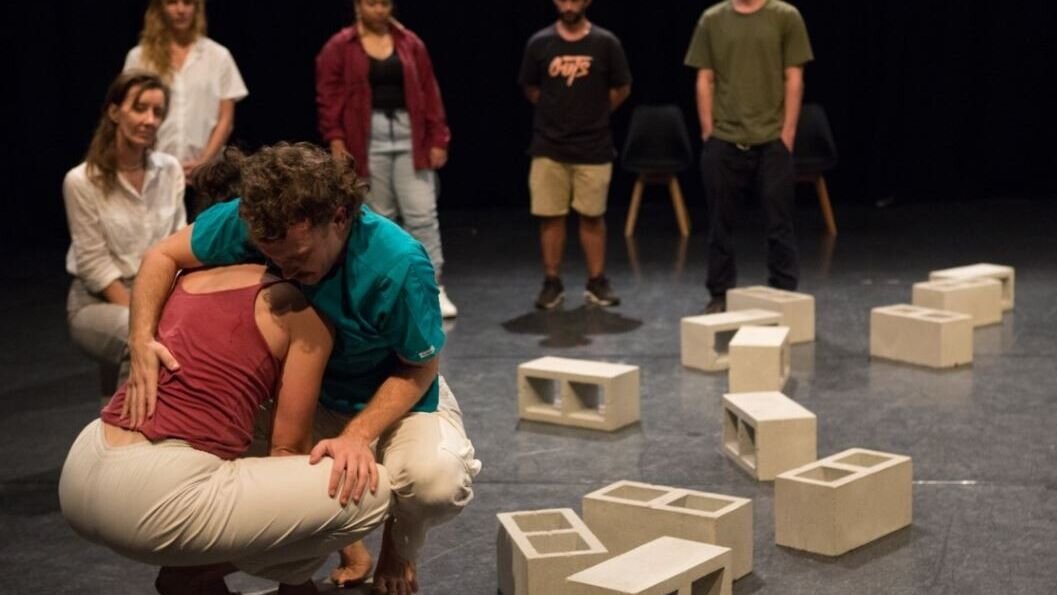 Reimagining change in Fertile Ground. Queensland contemporary dance artists, Michael Smith and Ashleigh Musk, are currently at HOTA undertaking a residency to continue the development of a new performance project Fertile Ground.
Drawn together by their passion for using dance/movement as a vehicle for empowerment, shared reflection and change, Fertile Ground marks the first of Ashleigh and Michael's collaborative choreographic practice.
As part of their residency, Michael and Ashleigh will also be leading daily open contemporary dance classes this week which will be a mix of task-based improvisations, floorwork and movement phrases.

Fertile Ground is described as a work which 'interrogates the multiplicities of "paradise" through the research and deconstruction of architecture, literature and philosophy. Through the lens of current environmental and humanitarian crises, we face the reality we currently inhabit and reimagine potential futures we could occupy.' Michael expanded on this by telling us:
'We started by unpacking ideas of paradise through literature and architecture and bringing those processes into more body processes, with the umbrella concept being paradise. At the moment there are 28 besser blocks which make up the bulk of the set, and Ashleigh and I are navigating through this in-between world of cement and rebuilding, and then reimagining what that is with the audience. At the moment we are at the point where we have a bit of structure and we are delving into how audiences navigate thought it.' Michael said.
Ashleigh told us:
'We started with the idea of paradise and we were thinking about what that concept means to us and to other people. Through conversation and research, we figured out there are lots of environmental and apocalyptic themes that we were really interested In as well. And then this year there has been a lot of influences from the bush fires and other big environmental and social events that made us feel like this was really relevant to talk about just now.'
Michael agreed, and added: 'It really feels like a time of shift and change and reimagining.'
They've developed a bit of a love/hate relationship with the bricks which transport the audience to a place of shifting landscapes, to a moment of limbo where audience and performers navigate their way through the micro cityscape of cement bricks, reimagining and recrafting their reality in a call for collective action.
'For me, dance has the ability to transcend language to be able to be read on energetic, kinetic and visual levels. Dance can just say things that words can't, and takes you straight to emotion,' Michael said.
Ashleigh continued: 'Everyone has a body so I feel like on some level everyone knows what it can feel like to move that body in different ways. So that is exciting to me. I also love that dance transcends art forms. You can gather information from other art forms and use objects, visual art, installation as well as performance in a way you can't with other individual art forms.'
Michael added: 'Dance is exciting as the material or form is also the perceptual vehicle.'
HOTA has supported this residency with rehearsal space, tech support, and marketing and venue space for the dance classes. Both Michael and Ashleigh agreed that support like this in invaluable.
'Creative development is integral to our work, if you don't have the space or the support then the work doesn't get made. And to get validation and support for your work also opens the door to new conversations and people,' Michael said.
Ashleigh continued: 'Having the support from a place like HOTA legitimises the work that's being done. It wouldn't be the same if we just got together in my garage. It holds you in a different space – here I am at work, and my job is being an artist.'
Acknowledgements:
This project has been assisted by the Australian Government through the Australia Council for the Arts, its arts funding and advisory body. This work was developed with Dancenorth in 2020 and supported by LGI through a studio residency at WXYZ studios. Fertile Ground has been supported through an Ausdance QLD and ADC Four Walls Residency and an Ausdance QLD Public Space and Participation Residency. This residency is proudly supported by HOTA Home of the Arts.
Photo credit: Image by Amber Haines
Art in your inbox
Get the best of HOTA delivered straight to your inbox.