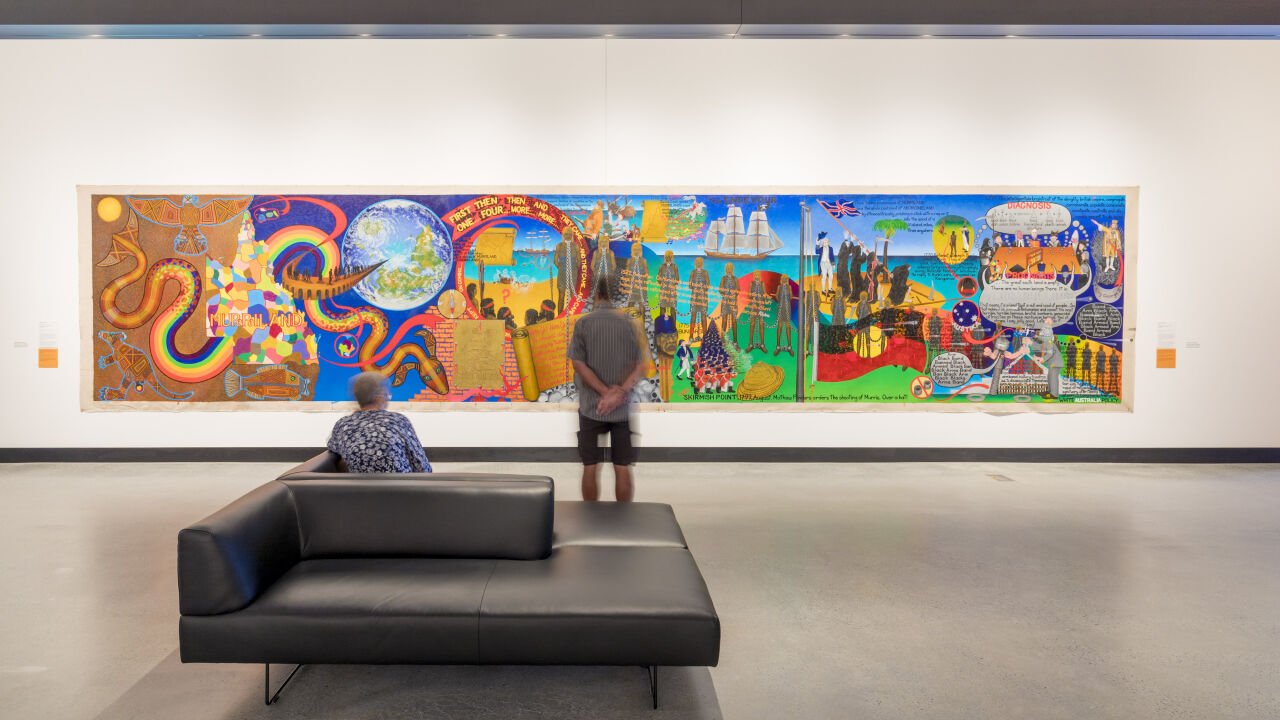 Every week we'll bring you news, arty insights and a sneak peek behind the scenes as we get ready to open HOTA Gallery next year.
Did you know HOTA is the home of the City Collection which includes more than 5000 works of art worth more than $32 million dollars? The City Collection also includes one of the largest collections of Aboriginal and Torres Strait Islander art in regional Australia.
Behind the scenes there is an enormous amount of work that goes into maintaining a collection of this size, and of course we're also preparing to move the collection to its new home in early 2021.

In preparation our gallery team is demounting and de-framing many works on paper, disposing of unwanted frames at auction, removing wires, adding fittings and backings to hanging works
They are also preparing and updating our archival storage options including paper folders, blue board storage boxes, solander boxes for demounted works and making bespoke storage boxes for 3D items like ceramics and small sculptures. We only use the highest quality, museum grade archival materials which are non-acidic, UV resistant and will not discolour or otherwise effect the works.
The gallery team have more than 2300 paintings/framed works to be prepared, 500 works to be unframed and boxed, 900 unframed works to be boxed and more than 630 3D works to be boxed/wrapped/crated. They are also reviewing and re-boxing items in our museum collection and will make around 500 storage/transport containers. As you can see there's a lot happening!
#Securing, Valuation and moving off-site
The status of the individual works is recorded in a Collection Management System called Vernon, which allows us to organise and maintain our collection records and activities around our collection.
As well as preparing for the move, the team are also photographing works of art and securing copyright permissions, a valuation of the entire collection will be undertaken, offsite/loaned items are being collected and ongoing conservation activity is being carried out.
Once work on the collection has been completed a selection will be moved off-site to allow us to move existing storage fixtures and fittings into the new Gallery later this year. Artwork storage options include large format map drawers, rolling hanging wracks and archival tube rolls. The storage areas will be maintained at 21 degrees and 50% humidity, conditions considered ideal for the preservation of a variety of artworks.
Once our brand-new storage is set up in the new gallery the collections will be moved across in preparation for the inaugural collection hang.
The new HOTA Gallery, with AAA rated environmental controls and specialist lighting, will showcase the City Collection in a way it's never been seen and allow it to be enjoyed by locals and visitors alike.
We'll throw open the doors of the new HOTA Gallery in early 2021. We can't wait!
Art in your inbox
Get the best of HOTA delivered straight to your inbox.