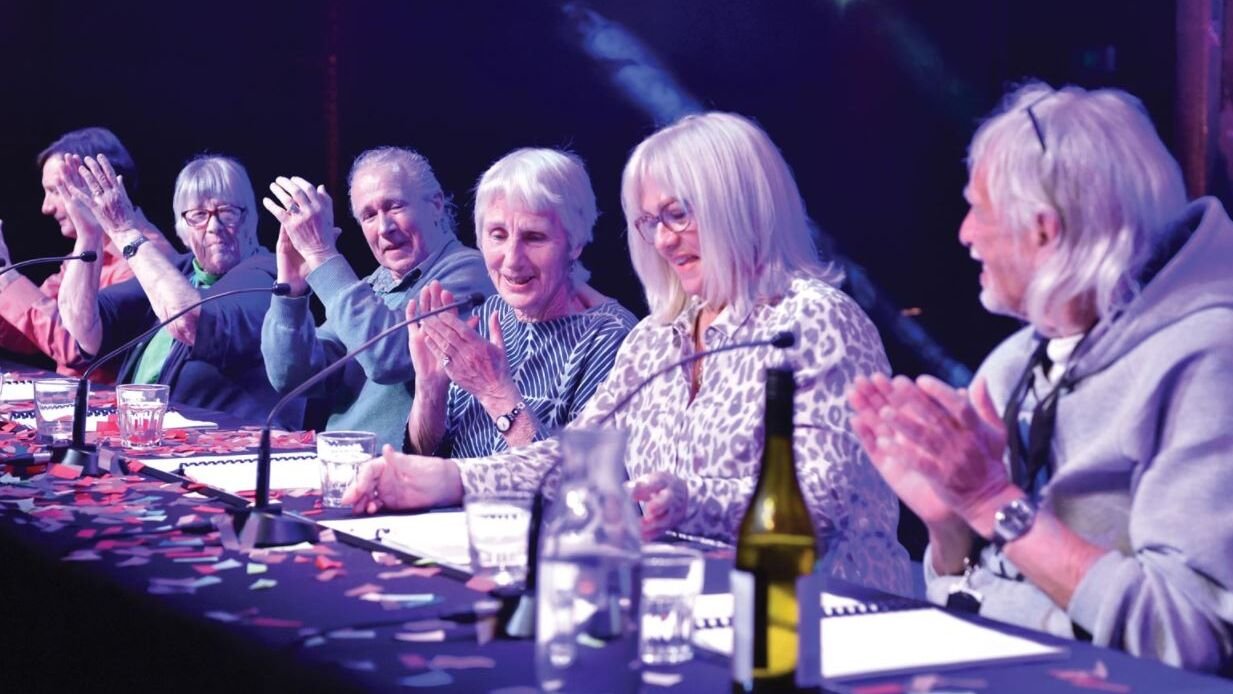 International artist in residence investigating the social sphere.
This week we welcome Mammalian Diving Reflex to HOTA, Home of the Arts as our next International Artist in Residence. Their work has been seen in more than 80 cities around the world and they're here for a month as they prepare for the engaging work All The Sex I've Ever Had, and for the groundbreaking Haircuts by Children as part of our Kids Take Over program.
'We're incredibly excited to have a company of the calibre of Mammalian Diving Reflex and their Artistic Director, Darren O'Donnell, joining us at HOTA. This is their first time on the Gold Coast and they're bringing us two amazing shows: All the Sex I've Ever Had, which is NOT what you think it is. And Haircuts by Children, which is EXACTLY what you think it is' said Criena Gehrke, HOTA CEO.

Mammalian is co-led by a two-director team – Darren O'Donnell, Artistic Director and Eva Verity, Director, Creative Production. They are an efficiently tight team, supported by a myriad of additional artists, with a wide variety of expertise: urban planning, writing, directing, art history, education, photography, videography, industrial design, acting, playwrighting and qualitative and quantitative research. They've won a number of awards for their engaging collaborations with the community, children and youth.
The company views innovative artistic interventions as a way to trigger generosity and equity across the universe. Founded by Darren in 1993, Mammalian is a research-art atelier dedicated to investigating the social sphere, always on the lookout for contradictions to whip into aesthetically scintillating experiences. They are a culture production workshop that creates site and social-specific performance events, theatre-based productions, gallery-based participatory installations, video products, art objects and theoretical texts.
In 2003, the company began to diversify its approach and generate work in a multitude of forms, focusing on creating playful, provocative, site and social-specific participatory performances with non-actors of all ages and demographics, designed to bring people together in new and unusual ways.
Mammalian's body of work is interconnected, varied and vibrant, reflecting their unique and growing body of knowledge and expertise on the use and function of culture. They create work that recognizes the social responsibility of art, fostering a dialogue between audience members, between the audience and the material, and between the performers and the audience. In all its forms, the company's work dismantles barriers between individuals of all ages, cultural, economic and social backgrounds; we collaborate with non-artists and offer both participatory opportunities for the audience as well as the traditional option of simply watching the proceedings as they unfold. It is their mission to bring people together in new and unusual ways, to create work that is engaging, challenging, and gets people talking, thinking and feeling.
Let's talk about sex (and other things)
All the Sex I've Ever Had focuses on real people who open-up about their lives, sexual experiences and the unexpected twists and turns of their relationships. Divulging stories of first crushes, turbulent affairs, unexpected pregnancies and deaths of loved ones. They'll chat with the audience, toast to important milestones and sometimes even break out into a dance on-stage. All the Sex I've Ever Had offers an opportunity to acknowledge that our elders have a lot to teach us, a lot to share, and that ageing can yield a way of being in the world that is open, generous and fearless.
'A cast of locals will join Mammalian Diving Reflex at HOTA over the course of a month to talk together about their lives and relationships. A unique and joyful performance will be developed from these stories then delivered live on the stage by the locals themselves. It'll be heart-warming, unexpected and no doubt funny in places. A truly special experience' said Virginia Hyam, Head of Programming at HOTA.'
Would you let a kid give you a haircut?
Way back in 2006, Darren published his book, Social Acupuncture, which established a theoretical foundation for a shift in the company's primary creative methodology. Propelled by the subsequent touring hit, Haircuts by Children – a performance about trust, children's rights, generosity and vanity– Mammalian began to work with a wide array of new collaborators, including international art festivals, art galleries, city administrations, seniors homes, community centres, schools and other socially-related institutions of civil society.
'Haircut by Children sees a group of keen kids getting a crash course in hairdressing through a series of workshops. Then they set up and run their own salon providing free haircuts for adventurous adults. This provocative work will ask you to put your hair (and vanity) in the hands of these little hairdressers and make you ask the question –do you trust a kid's judgement? It's truly placing your trust in the hands of a child' said Virginia.
And finally, we had to know – what's with the name?
'We get our name from a reflex found in mammals, which increases the chances of survival when we're plunged into a cold watery environment by snapping the vocal cords shut over the trachea, locking air into the lungs and slowing the heart rate, thus consuming less oxygen. For us, this is a metaphor for surviving difficult times, not through a comprehensive rational plan, but by getting the mind out of the way and letting the body do its job. With our work, we're always trying to overwhelm with ideas and sensation so that the participant is left with only the reflexive responses of the body to guide them. We trust we'll get through this century in one piece, we just have to get out of the way and let our natural tendencies of generosity unlock and redistribute the world's abundance' said their very informative website.
Art in your inbox
Get the best of HOTA delivered straight to your inbox.