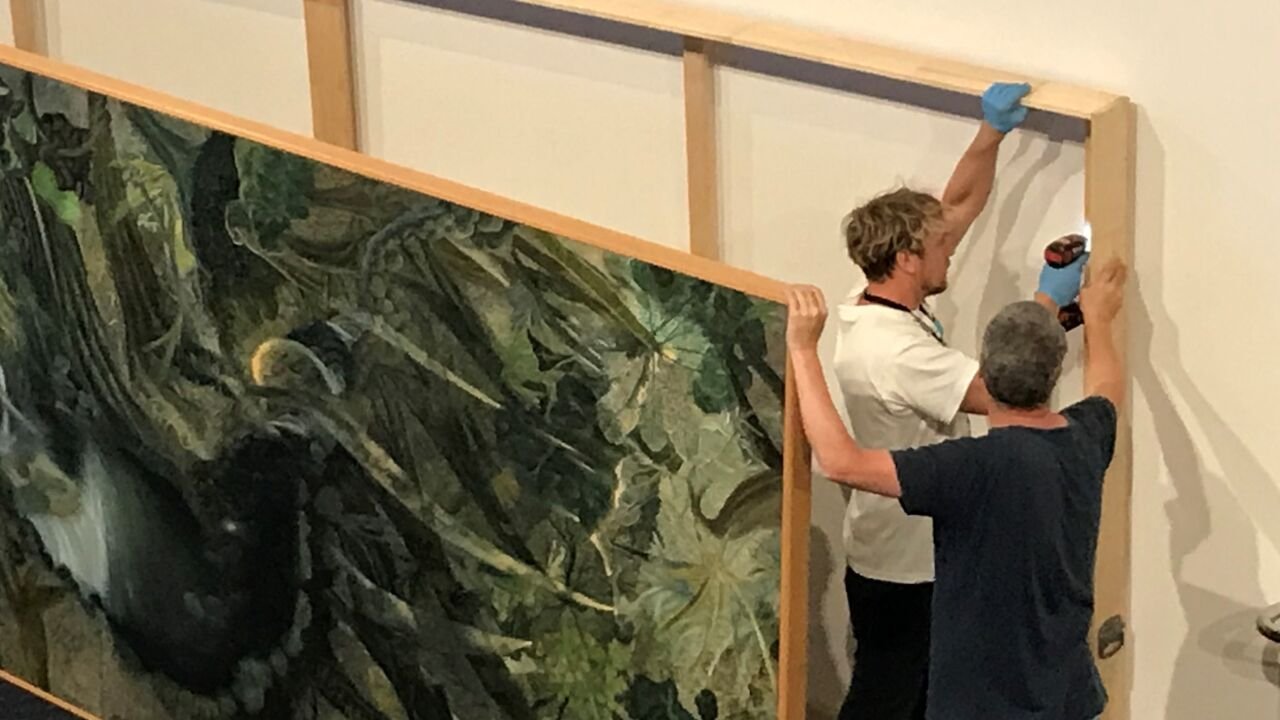 Last week one of our favourite paintings in the City Collection, The Rainforest by William Robinson, was taken down and will be sent for conservation work. As the inspiration for the new HOTA Gallery design, The Rainforest is a much loved and valuable painting and it's having some work done before it takes its rightful place in the new HOTA Gallery.
Conservation is one of the many tasks that take place behind the scenes at the gallery to maintain the City Collection in good condition and to address any issues that arise. With a collection that features more than 5000 works including paintings, works on paper, photographs and ceramics, this is an ongoing task!

Works from the City Collection are generally either on display (here or in other City venues) or they're kept in controlled storage. Either way, we constantly monitor their condition to make sure we keep the collection in great condition.
#How the works are maintained
As you can imagine, on a day to day basis artworks on display gather dust, varnish can begin to discolour, there can be paint loss from the surface or dirt can gather on edges from handling. Issues like cracking or paint loss can also arise from the technique, medium or type of material that has been used to create the work.

An oil painting, for example, can be affected by environmental conditions. Oil paint expands and contracts due to changes in air temperature and humidity and canvases can also lose tension. Over time this can cause the paint layer to crack and the stretched canvas to warp.
If we identify any issues during our regular checks then conservation activity is carried out, this can be anything from simple cleaning to more complex treatments. Minor treatments may be carried out on site or in a studio by a specialist conservator but more significant conservation will usually be carried out offsite in a conservation laboratory.
#The Rainforest & other works conservation
A representative from Sydney-based International Conservation Services recently visited us and examined a number of works that the gallery team have identified as requiring attention. Due to the size of the City Collection, priority will be given to artworks that will be included in the inaugural hang in the new HOTA Gallery. The Rainforest was one of the 20 works identified as requiring conservation.
The Rainforest itself is in really great condition considering it has been on display for much of the time since we acquired it for the City Collection in 1991.
However, over the years some tiny spots of paint have been lost and the surface has collected a little dust and dirt. These small losses will be infilled and carefully retouched. Conservators will use watercolour rather than oil paint, the original medium for the painting, so that the work is reversible and does not damage the painting. It will also have a surface clean and be vacuumed for loose dust.
The Rainforest is a diptych (a painting on two panels). There is an area where the two canvases and some of the paint layers appear to have stuck together and a small tear has resulted. It's likely this has happened during movement of the large work. This will be addressed to prevent further damage.
Making sure that the painting is not damaged during cleaning is always the highest priority. Before any conservation work begins the paint is tested with a variety of solvents to determine which products can be used that will not be detrimental to the work.
Transporting a painting of the size of The Rainforest (it's more than 5m long) to Sydney is also no small task. The gallery team built a bespoke travel frame for the painting and it will travel in a dedicated art courier truck with climate control and air ride suspension system. Specialist art couriers transport fragile and valuable artworks around Australia so we know that The Rainforest will be in good hands.
We'll get The Rainforest back in a few months and it will be placed in controlled storage as it waits to take its place in the new HOTA Gallery, opening in early 2021. We can't wait to see it under new lights in the new gallery and think the new surroundings will enhance this beautiful painting in a way it's never been seen before.
Art in your inbox
Get the best of HOTA delivered straight to your inbox.