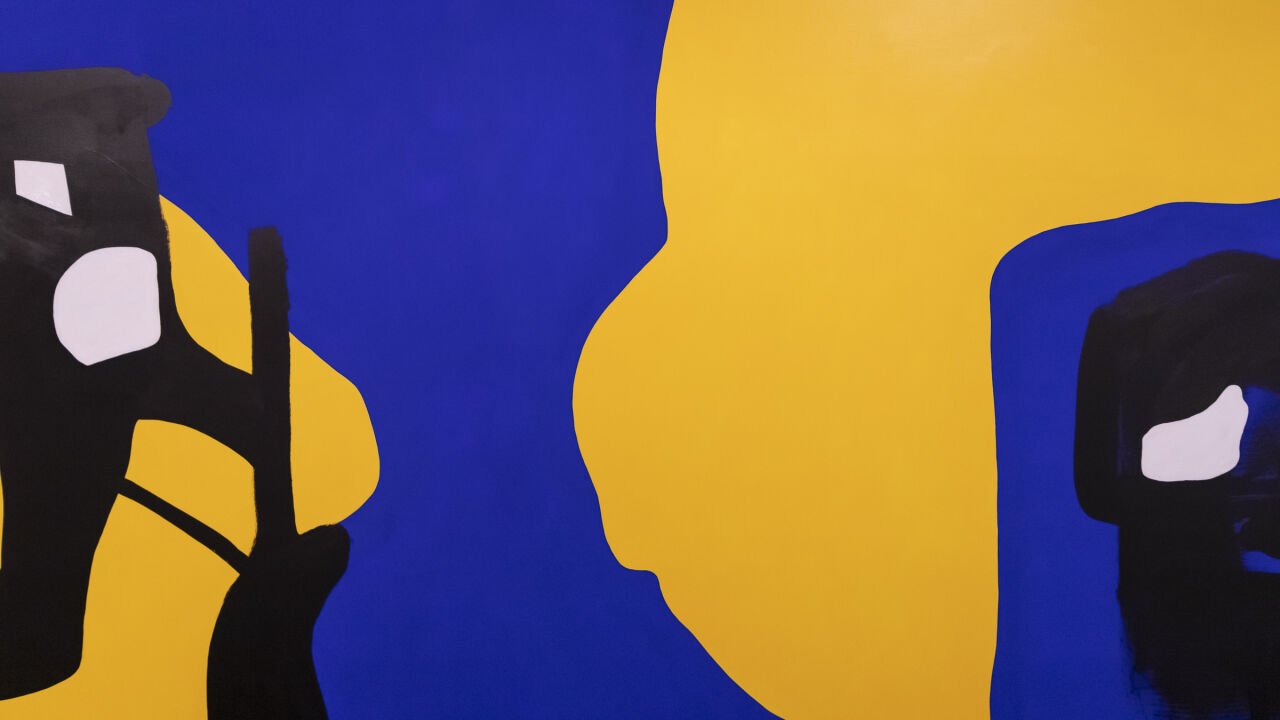 At HOTA we're always looking for opportunities for local artists. Our Duchamp Wall Commission provides a blank canvas for local artists to create site-specific, temporary artwork and to extend their own practice.
The Duchamp Wall is a nod to Marcel Duchamp (1887-1968); a multi-media artist associated with Cubism, conceptual art, and Dada. He challenged the conventions of art-making and famously declared a porcelain urinal as an artwork.

For the fourth iteration of our Duchamp Wall Mural Commission, local artist Laurie Oxenford has transformed our Foyer with a new, large-scale tri-colour painting.

'I believe that all art-making is sculptural, and this is my painting sculpture. The blue pigment and the yellow pigment are the purest forms of colour you can get. In their purest form are almost physical to touch, the pigment in the blue almost crumbles when it dries.

'I'm really interested in the colours as physical elements, putting them together and the way they sit on the wall is really interesting. The blue is really deep and sinks back into the wall and the yellow really pops forward.'

Instead of using a paintbrush, Laurie used different found functional objects to apply the paint using these tools in an experimental way.
'I used various objects including a broom, some wood, some old chair stuffing and some plastic and looked at how all the different objects create texture. I think there's a semi performative aspect to the act of making or painting with objects. It's a per
Taking cues from minimalism, hard-edged abstraction and colour field painting, Laurie used vibrant colours to respond to the large flat surface of the wall and its surroundings.
'I follow minimalist principles, like refining and essentialism, and work to reduce things down to the keys elements to get the point across or to articulate an idea. There's no narrative. This work is not about anything, it's just about the act of painting and the act of creating sculpture in this particular way.'
The result is a composition where gestural black markings are laid over a background of defined fields of primary colour. By using the purest forms of primary colours with the highest possible pigments the intensity of these colours demand attention and the mural is stunning in both scale and vibrancy.
Having not worked on this scale before Laurie enjoyed the process of creating a large-scale work.
'Seeing it on this scale is really beautiful. The work seems to become more and more sculptural the bigger it gets. I love seeing how the blue and yellow have come together.'
'I have been using these two colours for years now, and they are something of a core palette for me. They are both very functional colours. Yellow is used a lot in safety and the blue I happened across when a friend shared the colour with me. I was looking for a really deep-textured blue, when you touch it it's like velvet. This blue has become a central part of my practice.'
Next time you come and visit us make sure you check out the mural (to the left of the Box Office).
Raised on a lavender farm in south-east Queensland, Laurie Oxenford (b. 1997) is an emerging artist, producer and curator. In 2019 she completed her Bachelor of Creative Arts majoring in Visual Arts (spatial construction) at the University of Southern Queensland. Her work has been exhibited in solo and group exhibitions across the state and is a part of private collections nationally.

Based on the Gold Coast her practice mixes a range of contemporary sculptural techniques including painting, assemblage, deconstruction and utilising recycled materials to alter functional found objects. She also considers how context establishes new dialogues between artworks, spaces and viewers.
Her work comments on society's relationship with sustainability, the role of material in art and different ways of constructing conceptual meaning. Oxenford explores waste facilities, second-hand outlets and industrial landscapes that offer recycled, environmentally affected items such as metal signs, building materials, and everyday objects, which inspire, direct and become the starting point for her creative process. She explores how the context for these objects affects their meaning and in turn, how they change the space they inhabit.
Through referencing the Art Povera, assemblage, minimalism and conceptual art movements, Laurie delves into the deconstruction and reconstruction of function, purpose and intention. Her practice is tied passionately to recycled materials, which allows her to think dynamically and laterally, exploring all possibilities and material facets in depth. She is constantly considering the value of her materials and then her role as the artist in altering this perception for her audience.
Photo credit: Aaron Chapman
Art in your inbox
Get the best of HOTA delivered straight to your inbox.