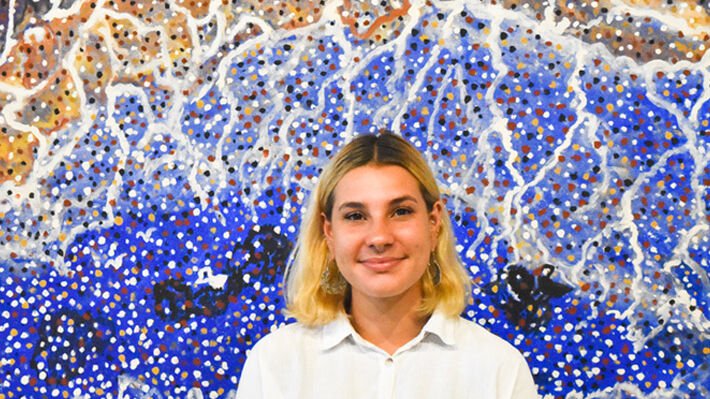 We are delighted to welcome Rebecca Ray to our Gallery team as an Assistant Curator, Indigenous art.
Rebecca is a Meriam Mer woman from the Torres Strait Islands who now lives on the Gold Coast. Raised on the far south coast of NSW she grew up disconnected from her culture and since moving to Queensland has been connecting with the local Indigenous community here.

As a practising multidisciplinary artist, she uses her art to reconnect with her ancestral lineage and rich cultural heritage. Working primarily in printmaking, weaving, textile design and sculpture she's been mentored and guided in her practise by artists such as Laurie Nona and Gordon Hookey.
#Sharing, Listening and Learning
Rebecca enjoys collaborating and learning from other Indigenous peoples and believes in the importance of sharing, listening and learning through these connections.

Soon to graduate from Griffith University, where's she's been studying History and Sociology, she leapt at the opportunity to combine her passion for art with her strong interest in cultural identity and representation and joined our team on a part time basis.
'I really believe in the power of education and my main area of research has focused on how Indigenous identity is represented in knowledge spaces like galleries and museums and what it looks like to re-indigenise and de-colonialise these spaces,' she said.
As a participant of the Wesfarmers Indigenous Arts Leadership Program supported by The National Gallery of Australia, Rebecca was able to tap into a great network of Indigenous creatives across the country and played a significant role in guiding her to applying for this role at HOTA.
We have one of the largest collections of Aboriginal and Torres Strait Islander art in regional Australia and Rebecca is really excited to get the chance to work with such a diverse collection that contains so many significant works.
She particularly likes the diversity of works in the collection and believes they will challenge people's perception of what Indigenous art is.
'We've got a lot of really beautiful works that don't fit into any category of what people think Indigenous art is, they don't reference any traditional iconography and there are a lot of works that are really unique,'
Singling out Fiona Foley's Survival Stories as a favourite, she believes works like these are important as they tell strong, hard stories, but are articulated in a beautiful way.
Rebecca can't wait to see the Indigenous works in the new Gallery and thinks people will be surprised by the size and scale of the collection. And she's excited to showcase the many beautiful art forms that tell such culturally and historically significant stories.
'One of the great things about the new gallery is that the Indigenous works will be distributed throughout the collection galleries, all the art is together, there's no segregation. The work's that have been chosen for the inaugural hang will really highlight the collection we have.'
'Some of the works in the collection may be confronting but are incredibly engaging and thought provoking. They make you think about the history that Australia has and the conversations that we need to have. Other works are visually mesmerising and speak to the beauty found in Indigenous cultures, spirituality and the inherent link to Country.'
We can't wait to see which of the Indigenous works the Gallery team have chosen for the inaugural collection hang in the new HOTA Gallery when it opens in early 2021.
Art in your inbox
Get the best of HOTA delivered straight to your inbox.