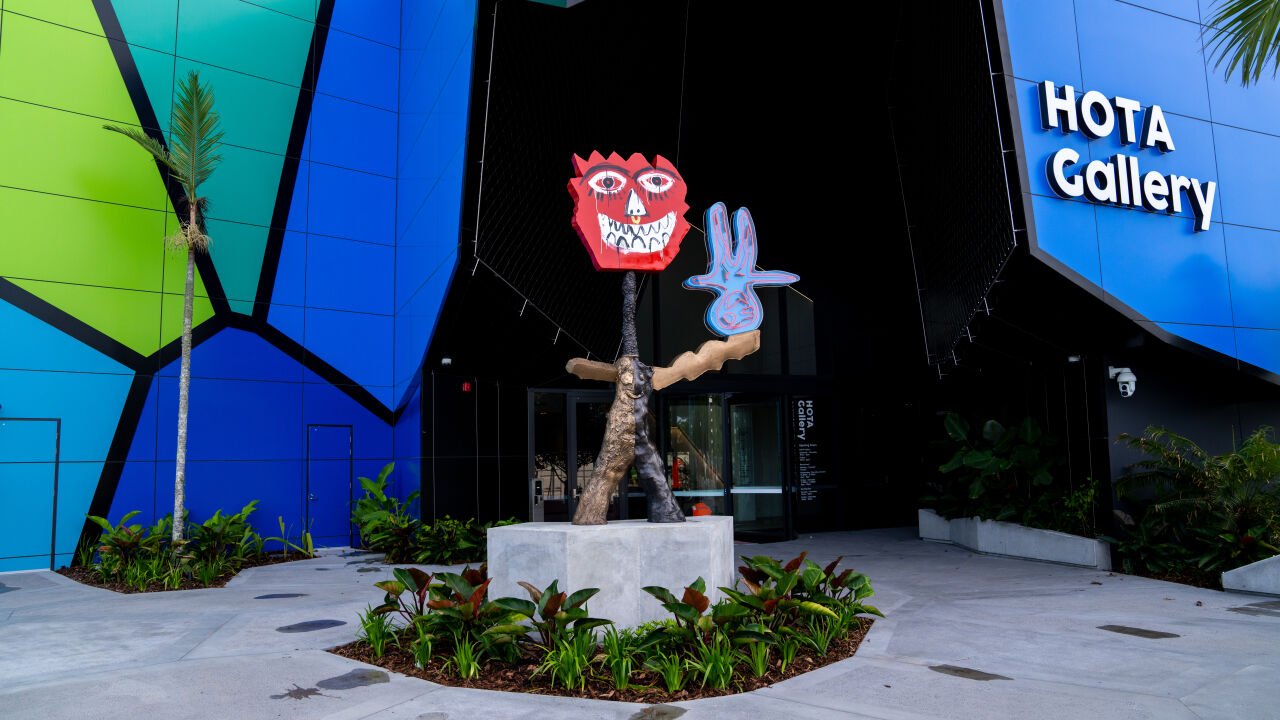 With less than two months before we open the new HOTA Gallery we gave the media a sneak peek today at the momentous new sculpture that will greet you when you arrive at the new HOTA Gallery.
This outdoor sculpture, a joint commission by the Melbourne Art Foundation and HOTA, is one of two new commissioned outdoor works that will join several other works as part of the precinct's growing outdoor gallery.
Every two years the Melbourne Art Fair (through the Foundation) select a partner gallery and offer the opportunity to commission a new work by a contemporary Australian artist. Commissioning the creation of new work is a core part of HOTA's remit to support artists and bring significant contemporary artwork to the Gold Coast and it was a great privilege to be offered this prestigious commission.
The artist chosen for this commission was Sri-Lankan born, Sydney based artist Ramesh Mario Nithiyendran. A rising star in the art world, he's garnered considerable critical acclaim for his work and is making waves across the Asia-Pacific. He's delivered major artworks of scale in museums, biennales and multi-art centres, is a Sidney Myer creative fellow, was the recipient of the 2018 Melbourne Art Fair Young Artist Award and was a 2019 finalist in the prestigious Archibald Prize.
Ramesh is renowned for his challenging and innovative use of historically charged materials through which he has forged new understandings and genres for contemporary sculptural practice. For this commission he's created a stunning six-metre-high sculpture, Double-sided avatar with blue figure which aims to provoke conversation by purposefully challenging the staid and serious form of statuary that we are used to seeing in public spaces.
This work was informed by the artist's research into the cultural significance of the role of a guardian figure in many different cultures across the Asia-Pacific region. The scary, bold and vibrant figure both invites people in but also scares away the negative spirits.
Predominantly composed of bronze with a range of materials including concrete, neon and fibreglass, the sculpture is double sided and gestures to the notions of past and future, as well as entry and exit. The multi-coloured avatar, holding a smiling neon companion, will welcome visitors to HOTA Gallery with outstretched arms.
Ramesh told us the concept of the 'avatar' is central to the work: 'The word is derived from the Sanskrit ###emwhich means 'descent'. It is a composite of the terms ava 'down' + tar- 'to cross'. According to Hindu scripts it refers to a manifestation of a deity or a divine bodily form on earth; with spiritual or pedagogical functions. The prosaic form of this word is omnipresent in digital interfaces as an icon or figure representing a particular person in a video game, Internet forum, etc.'
For this work the body was firstly modelled by the artist's hands in raw clay; a material connecting to diverse global cultures and histories. Polystyrene components, shells and rubber snakes were then integrated into the raw clay form. This body was then cast in wax and transformed into bronze at Mal Wood Foundry in Melbourne. Double-sided avatar with blue figure, is Ramesh's largest sculpture to date and the artist's first ambitious work in the public domain.
Known for his challenging and innovative references of ideas of monumentality and idolatry, Ramesh's new work is an extension and consolidation of his practice. Ramesh Says:
'The work gestures to a range of global sources that link to my cultural background and contemporary culture, I hope local and international visitors engage with the work by considering the meanings and significance of idolatry and sculptural monuments in public spaces.'
This work continues Ramesh's interest in the assumed authority and function of large-scale figurative sculptures that frame the entrances of various architectural forms and civic spaces across cultures and centuries.

Ramesh continued: '(This work) also synthesises my research into the role of various guardian and protector figures prominent across the Asia-Pacific. These include Japanese nio guardians as well as Hindu Dvarapala door gate guardians. However, it is important to note that the work is not a direct depiction of these figures or others from specific religions. Rather, it is speculative and gestures to a range of global sources that link to my cultural background and contemporary culture at large.'
The unveiling of this incredible sculpture is both a tease and a promise of the significant, contemporary work visitors can expect when they take a first look into this amazing new gallery.
If you want to be one of the first to explore the extraordinary HOTA Gallery and see this bold sculpture then register here and we'll let you know how you can get your hands on opening weekend tickets.
Image credit:
Ramesh Mario Nithiyendran. Double-faced avatar with blue figure (2021) Bronze, concrete, fibreglass and neon. Collection, HOTA Gallery. Commissioned by Melbourne Art Foundation and HOTA to coincide with the Gallery opening 2021
Art in your inbox
Get the best of HOTA delivered straight to your inbox.