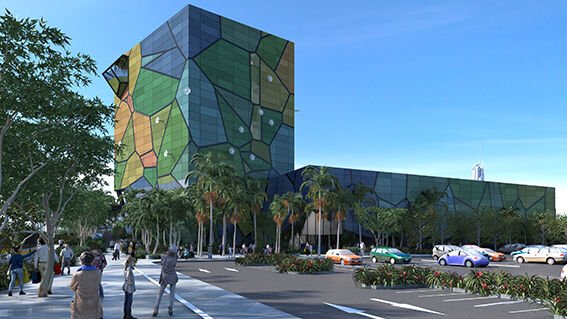 Media got the first glimpse of the view from the top of the new HOTA Gallery as they attended the very last concrete pour at the end of last week.
The $60.5 million HOTA Gallery is the tallest building structure the City of Gold Coast Council has ever undertaken, and construction has now reached the highest point.
Construction is progressing well. It's on time and on budget. Currently 355 Gold Coast based workers have been employed – this number will rise to 900 by the time the Gallery is finished.

The six-storey gallery includes a rooftop with amazing 270-degree views of the city skyline and landscape.
The building will also boast a ground floor cafe and 2000sqm of AAA rated gallery exhibition space, including a 1000 square metre exhibition hall for touring exhibitions. It will be capable of welcoming blockbuster international exhibitions and will also be a fitting home for the City Collection.
The City Collection contains more than 5000 works valued at more than $32 million and we can't wait to show it in a way it's never been seen before. Once the Gallery is open, you'll be able to visit free of charge to see the City Collection.
The first three years of international and major exhibitions that we have planned are absolutely incredible. You will never have seen anything like them on the Gold Coast before and they'll truly deliver on the City's aspiration to become a cultural beacon in the Australian artistic scene.
We'll open the doors to the new HOTA Gallery in early 2021. Watch this space!
Art in your inbox
Get the best of HOTA delivered straight to your inbox.