We choose artists who playfully interact with audiences and we align their residencies to other activities happening in the precinct. They sometimes shock, often amuse and confuse, and gently disrupt your day (in a good way).

Each artist is invited to interact in their own style, to experiment and create. The arts are not predictable and neither are our Disruptors.
Poncho Orange and Penelope are a tumultuously passionate partnership with a fruity flare for fiestas. Just like their Latin blood, their spicy relationship has been known to bubble and boil at times. This chaotic couple dance their way through the world, and when it comes to problem solving they let their feet do the talking, turning any area into a Latin lovers dance floor.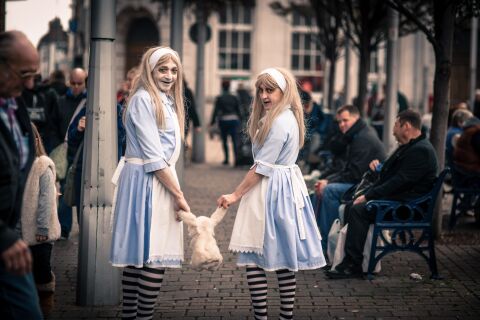 Cocoloco
Husband and wife team Trevor Stuart and Helen Statman brought joy and a bit of gleeful chaos to our 12 Days of Christmas music program, making the festive season even more memorable.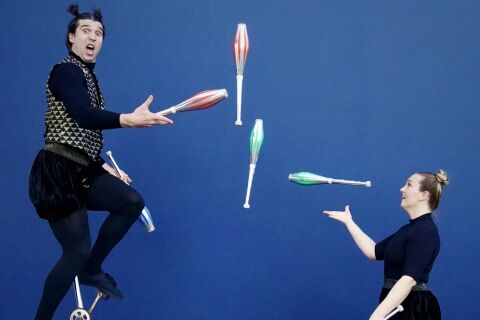 Arc Circus Company
Robbie Curtis (Cirque du Soleil, Circa, The Australian Ballet) and musician and performer Lizzie McRae had our littlest audiences buzzing as part of our October edition of Kids Take Over. They tested out ideas for their new work A Bee Story before its outdoor premiere in Sydney Festival.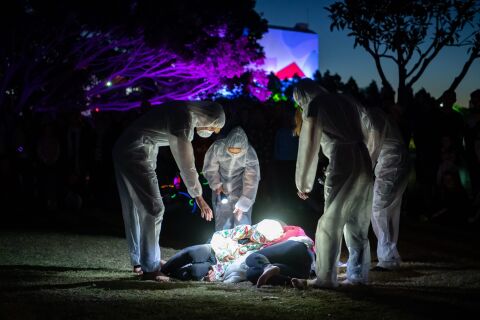 The Farm's Greenhouse Youth Ensemble
Supported by HOTA Home Company The Farm, this group of eight young contemporary dancers and creatives took over our foyers, terrace and even the Theatre 1 auditorium (for a few minutes) during our end of year dance concert season, showing adults how disruption is done.
The Huxleys
Dynamic duo, Garrett and Will Huxley, brought some of their most sequin-soaked creations to HOTA, disrupting our Lawn Bar and escorting audiences to our season of The Irresistible in style.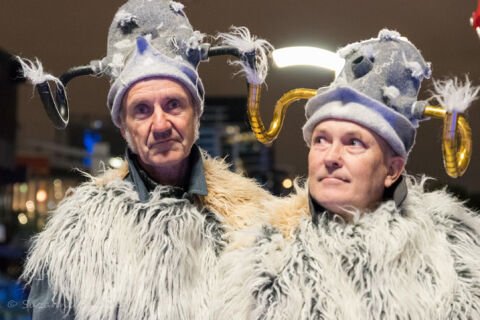 Thomas & Wells
Our very first Disruptors in 2018 were collaborative performance duo, Thomas & Wells. And we were lucky enough to have them back during the first GC Laughs Festival at HOTA in 2019 – double the laughs and double the fun!
Art in your inbox
Get the best of HOTA delivered straight to your inbox.