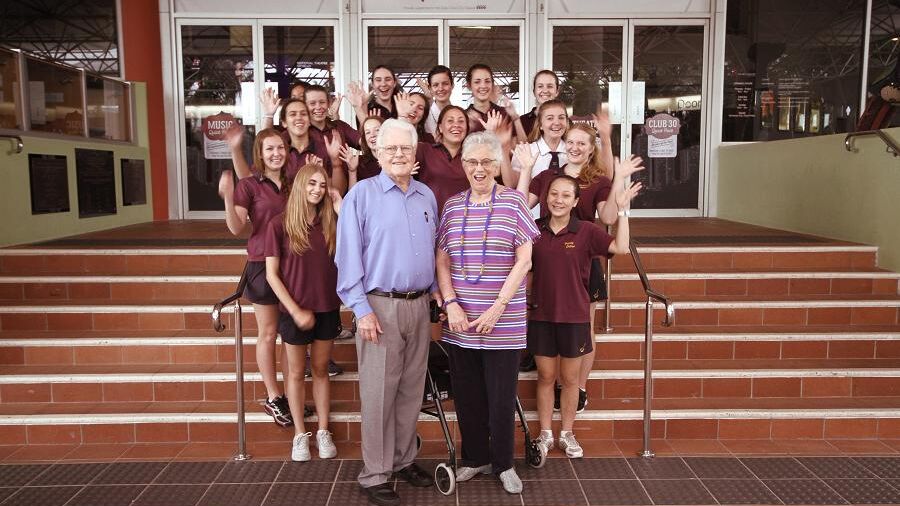 We are very saddened to hear of the passing of our friend and benefactor, Beverly McIlwain.
Beverly and her late husband Jock were a treasured part of the HOTA family and when Jock passed away three years ago, Beverly continued to be an avid supporter attending events and exhibitions. She was also very committed to supporting young artists to achieve their dreams through scholarships and private donations.
Beverly and Jock's passion and dedication for the arts and its role in education was highlighted in 2013 when they established the Jock and Beverly McIlwain Arts Bus Fund, This fund has allowed over 10,000 Gold Coast children to gain access to the arts and culture program at HOTA. For this, we are very grateful.

Like Jock, Beverly will be greatly missed but the McIlwain's generosity and legacy will live on at HOTA and be felt for many generations to come.
Beverly McIlwain said:
'Subsidising the bus for these children is just one step along the way in helping the young people attend the theatre or a workshop. The buses were so expensive, so we agreed we would finance the buses for the children. It then became known as the bus fund. In those years since it started, there have been over 10,000 children. And I think that's incredible. It's very rewarding.'
Local school kids have been able to take advantage of the amazing learning opportunities presented by attending the arts. The kids have seen exhibitions, performances and participated in workshops run by artists.
Experiencing arts and culture is so important for kids. They become more empowered to express themselves, they have stronger language, motor, and decision-making skills, and they're more likely to do well in other school subjects and in their future careers.
Art in your inbox
Get the best of HOTA delivered straight to your inbox.