#A week-long residency with musician William Barton
An incomparable talent bringing a timeless, ancient artform to the biggest stages of classical music, William Barton has forged his status as one of Australia's leading composers and didgeridoo players over decades of commitment, innovation, and performance. Joining HOTA for a week-long residency, his presence, connection to community, and love for music has become an infectious force felt long before he's set to arrive.

A proud Kalkdunga man, raised on a cattle station outside Mount Isa in Northwest Queensland, Barton's family and connection to country carry a heavy importance in his work. His uncle, Arthur Peterson, was Barton's first mentor and teacher. Regarding his uncle's teachings, Barton recalls:

'What I remember so clearly from my uncle is him telling me that the didgeridoo is a language. It's a speaking language and like any language, it's something that you've got to learn over many months, and many years. It's got to be a part of you, and what you do.'
Performing alongside his mother, singer, songwriter, and poet, Delmae Barton, their incredible creative bond is captivating and needs to be experienced for the depth of the connection to be felt and understood. A constant collaborator, Barton celebrates his community, working alongside talented forces and creative muses.
A celebration of William's continually growing legacy, his connection to community, and unrivalled talent, his residency is a feather in the cap for HOTA and an unbelievable opportunity to experience a generational talent.
#Experience William Barton's Residency
Lyrical Landscapes Pop-Up Performances
Just like the rainforest, plan for the unexpected at Lyrical Landscapes: The Art of William Robinson. Simply purchase a ticket to the Lyrical Landscapes exhibition during the performance times and experience something special.
Playing Lyrical Landscapes
Where the music of William Barton meets the visual splendour of William Robinson's awe-inspiring works of art. The HOTA Gallery has found the heartbeat for the second major exhibition, Lyrical Landscapes: The Art of William Robinson.
Yarning Circle: Sound and Song
Share cultural knowledge and storytelling and connect and learn from each other. Yarning Circles are led by our indigenous community but are open to everyone to share in knowledge and truth respectfully. Be part of living culture and hear from poets, songsmiths, and master musicians about deep listening and sonic connection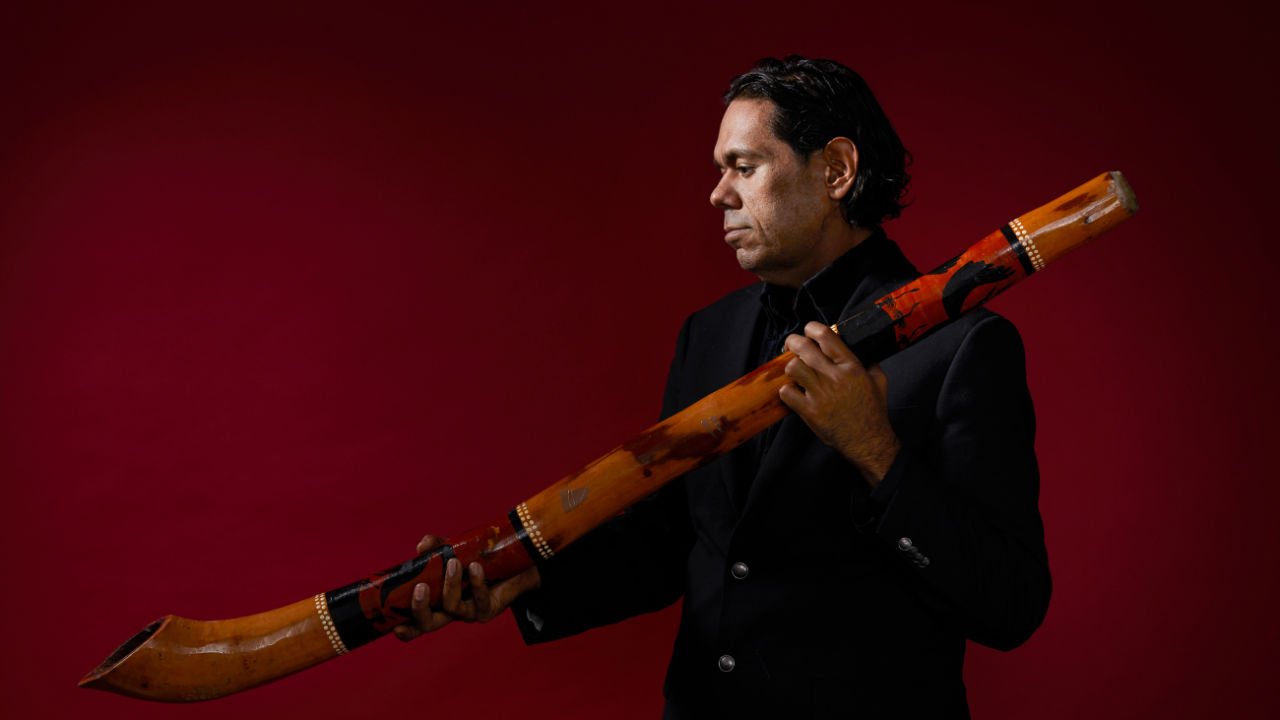 William Barton
William Barton is Australia's leading didgeridoo player as well as composer, instrumentalist and vocalist. William first learnt the instrument from his uncle, Arthur Peterson, an elder of the Wannyi, Lardil and Kalkadunga people and was working from an early age with traditional dance groups and fusion/rock jazz bands, orchestras, string quartets, and mixed ensembles.

Throughout his diverse career he has forged a path in the classical musical world, from the London and Berlin Philharmonic Orchestras to historic events at Westminster Abbey for Commonwealth Day 2019, at Anzac Cove in Gallipoli and for the Beijing Olympics.

His awards include Winner of Best Original Score for a Mainstage Production at the 2018 Sydney Theatre Awards and Winner of Best Classical Album with an ARIA for Birdsong At Dusk in 2012. In 2021 he was the recipient of the prestigious Don Banks Music Award from the Australia Council. William is currently developing a new musical language, epitomised in Heartland, in partnership with Aunty Delmae Barton and violinist Véronique Serret.
Art in your inbox
Get the best of HOTA delivered straight to your inbox.