Postcards from the Edge
From Jun 11
Children's Gallery
The paintings of Martin Edge are brought to life in this family-friendly travel adventure in HOTA's dedicated Children Gallery.
Sunny and happy holiday dreams come true in Postcards from the Edge. There's no need to travel any further than HOTA's Children's Gallery where artist Martin Edge's colourful paintings are brought to life in an inclusive space for fun and adventure.
Holiday vibes abound in Martin's beach scenes, where you can climb a giant sandcastle, visit his souvenir shop and create your own holiday mementos to take home. HOTA invites the whole family to visit, stay and play while you dream of holiday adventures - past and future. Let's create some colourful and creative holiday memories together.
Presented by HOTA, Home of the Arts with Martin Edge
Exhibition Major Partner Robina Town Centre

HOTA has received grant funding from the Australian Government, under the Recovery for Regional Tourism program administered by Austrade to support this program.

Dates
From Jun 11
Where
Children's Gallery
Ages
All Ages
Tickets
Free - Bookings not required
Credits
A collaborative project developed by the artist and HOTA for the Children's Gallery 2022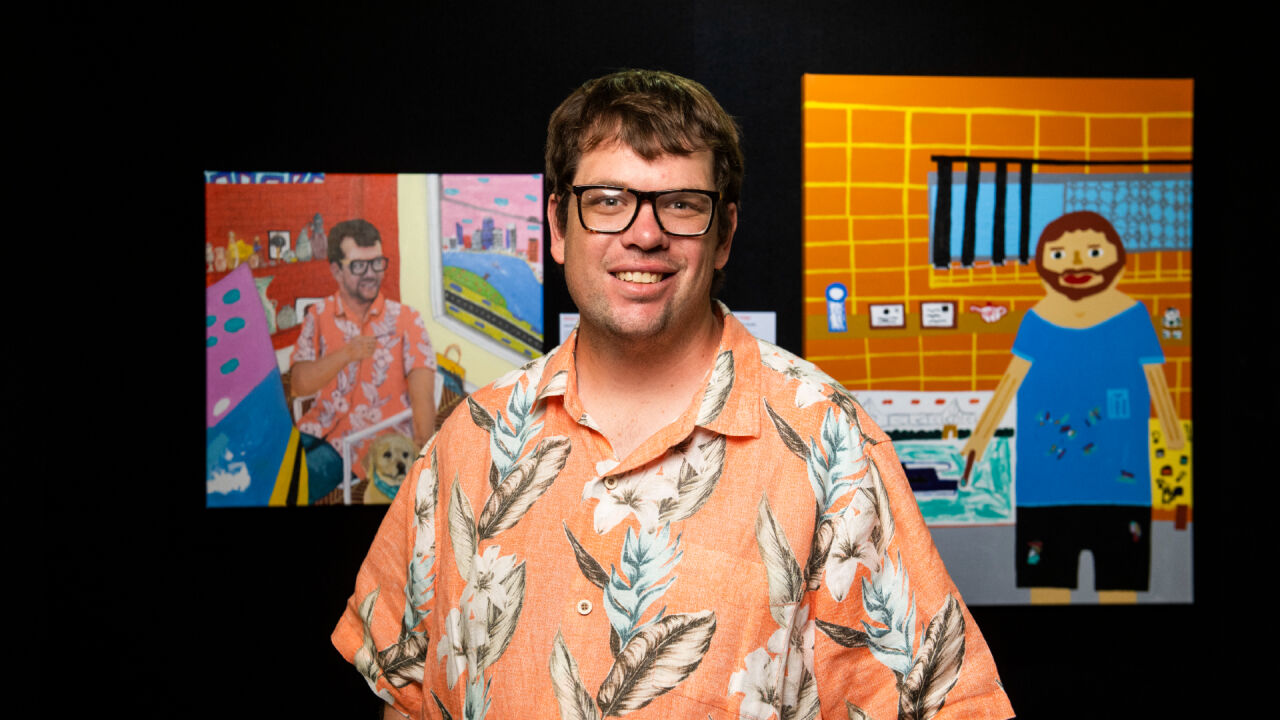 Martin Edge
Brisbane artist Martin Edge began painting in 2007 and describes himself as a naïve artist who depicts the world according to his everyday life, including adventures that he has been on or aspires to undertake.

Of course, Martin's painted adventures wouldn't be complete without sharing his journeys down south to the Gold Coast. His paintings often have an elevated perspective to encompass our sandy beaches and skyline of buildings, but also the network of canals and mountain ranges beyond. He describes this vista as 'glowing with life, both man-made and natural'.

Each work takes many weeks to complete due to the intricate details in the composition made up of multiple layers of acrylic paint. Martin's colourful palette conveys his sense of joy and optimism. His signature on the back of his paintings is always accompanied by a little drawing of a balloon and a cheery wish for 'all the best'.

Martin paints because it makes him happy. He states, 'Painting is life. When I feel tired or sick I sit down to paint and I'm energised and better'.

In 2007 Martin completed studies in Visual Arts at Northpoint Institute of TAFE Brisbane, and studies in Illustration at Southbank Institute of TAFE Brisbane.

His work is represented in regional, state and national institutional collections including The Parliament House Art Collection Canberra, Gold Coast University Hospital, Lady Cilento Children's Hospital and State Library of Queensland. He has been a finalist several times in the Archibald's Salon des Refuses and Brisbane Portrait Prize, as well as The Blake Prize for Religious Art and the Tattersall's Club Landscape Prize.

Martin Edge is represented by Anthea Polson Art, Gold Coast, and Robin Gibson Gallery, Sydney. He is a proud ambassador for Autism Queensland.

Image: Martin Edge captured at the 2021 Brisbane Portrait Prize, in front of his self-portrait (right) and portrait of Martin by Erica Gray (left). Photography: Jason Starr.
Hi, I'm Martin. I love to travel and I think of every day as a new adventure. I make paintings about the places I have visited. Or the places I dream about visiting.

My artworks are like a 'memory jog' of each adventure, but I also like to use my own imagination and creativity to paint the scene how I see or remember it.

I love my trips to the Gold Coast. I love to look at its famous skyscraper skyline, beaches, canals, the backdrop of the mountains – and now HOTA!

What do you love about the Gold Coast?

Let's create some holiday memories here today. You don't have to leave home to travel. You can use your imagination or a 'memory jog', like I do.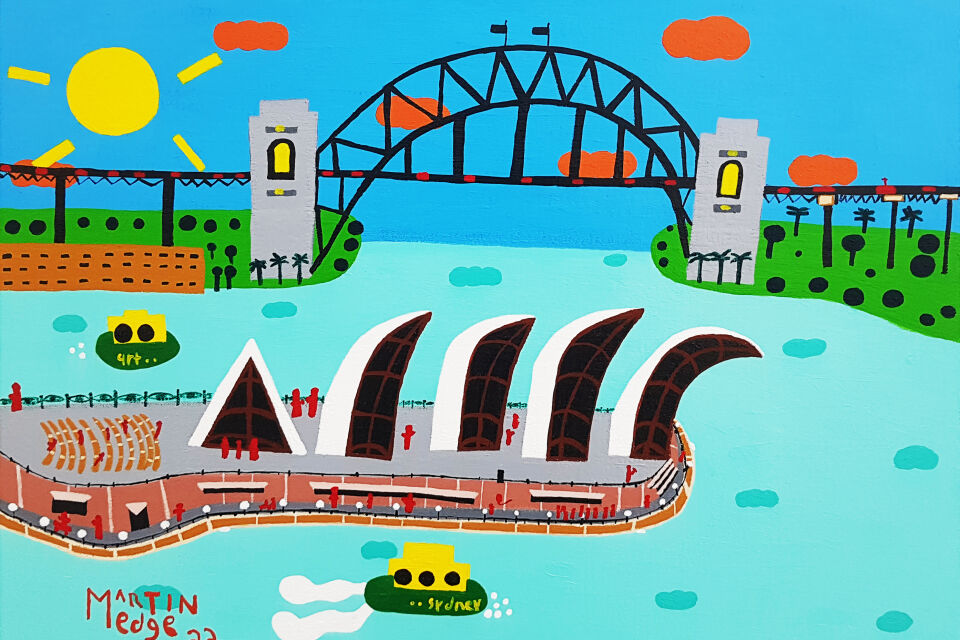 Martin Edge 'Sails' 2022, acrylic on canvas © the artist and Anthea Polson Art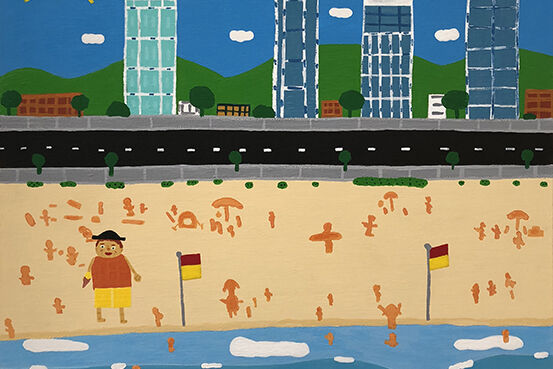 Martin Edge 'Martin being sun smart' 2018, acrylic on canvas © the artist and Anthea Polson Art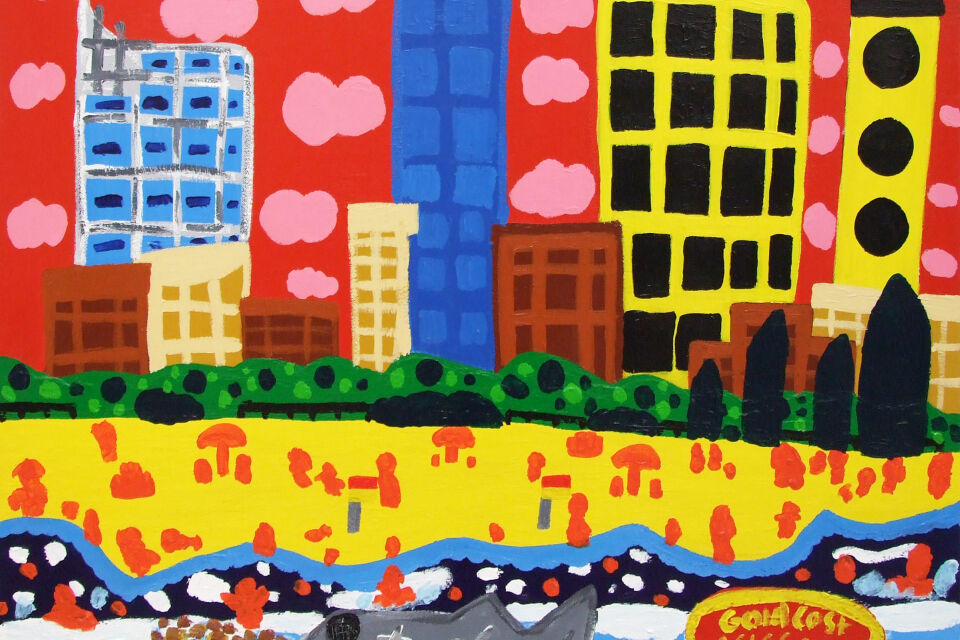 Martin Edge 'Gold Coast No 2' 2012, acrylic on canvas © the artist and Anthea Polson Art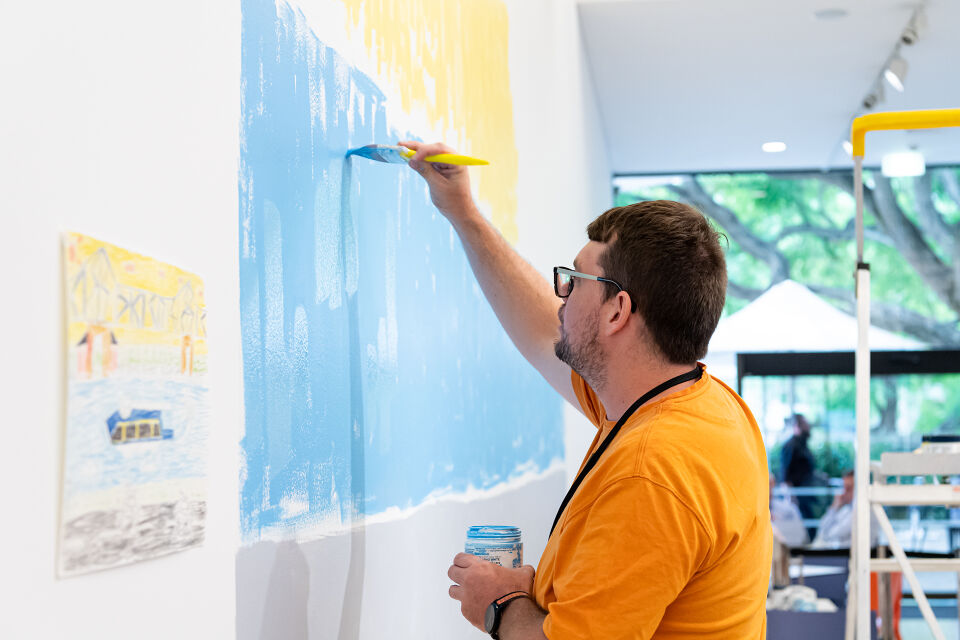 Artist Martin Edge installing his mural in the Queensland Art Gallery cafe, Brisbane, 2020. Photography: Chloë Callistemon, QAGOMA.
Supported by the Thyne Reid Foundation.