Waru - Journey of the Small Turtle
Presented by Bangarra Dance Theatre
Wed 23 Oct 2024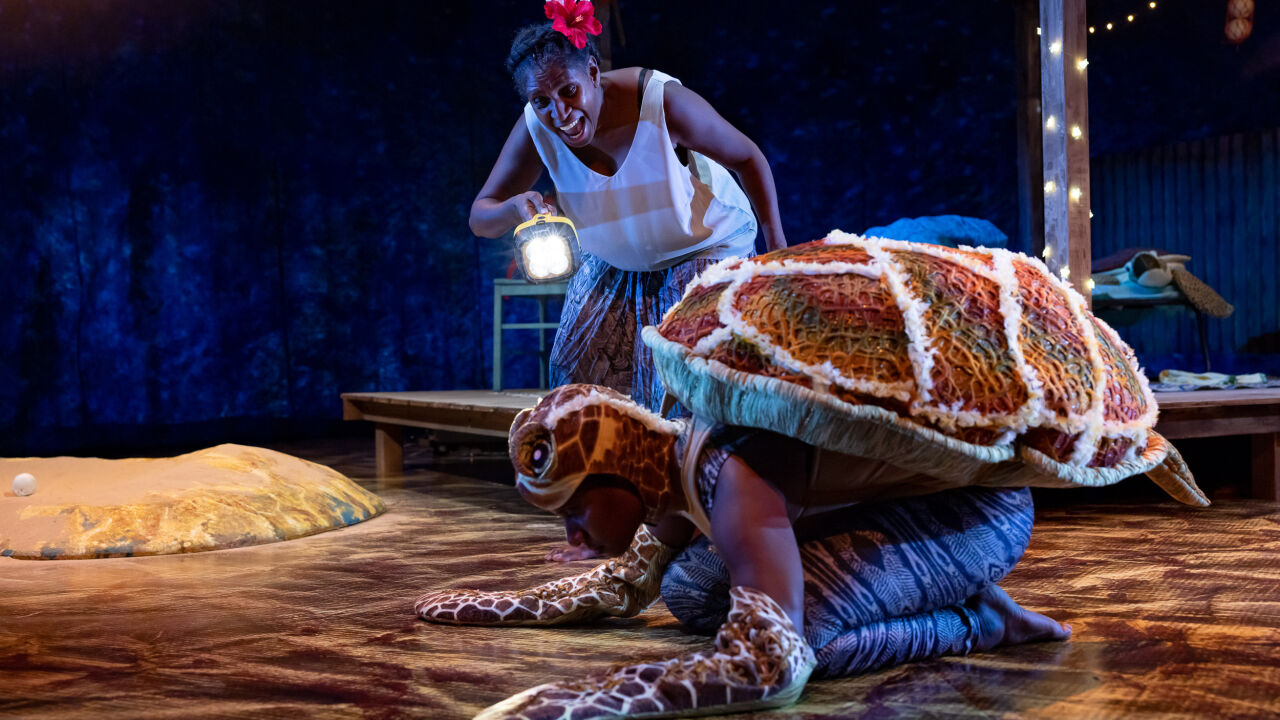 WARU - JOURNEY OF THE SMALL TURTLE
Under the star-illuminated skies of the Torres Strait, a green turtle navigates her way back to the beach where she was born. The season has started, the turtles are returning to nest, and soon the island will welcome a new generation of hatchlings - amongst them, our small turtle friend, Migi! 
In Bangarra's first dedicated work for children, join our heroine Migi as she undertakes a journey of discovery and survival. A contemporary saltwater Lagaw Kazil (Island Children) story inspired by the totemic system of the green turtle, Waru - journey of the small turtle is an interactive and immersive introduction to Torres Strait Islander culture and dance for 3-7-year-olds.
Created by Stephen Page, together with Hunter Page-Lochard and Bangarra alumni Dancers and Choreographers Sani Townson and Elma Kris, Waru provides teachers, parents and caregivers with a unique opportunity to open up conversations about climate change, caring for the environment, and the traditional cultural values of respect and reciprocity.
Links to Curriculum
The Arts: F-4 Dance, Drama, Media, Music
Foundation: explore how and why the arts are important for people and communities
Explore where, why and how Dance/Drama/Music/Media is created and/or performed across cultures, times, places and/or other contexts.
HASS F-6:
Year 4 History
The diversity of First Nations Australians, their social organisation and their continuous connection to Country/Place
Year 3 Geography
The ways First Nations Australians in different parts of Australia are interconnected with Country/Place
Year 5 Geography
The influence of people, including First Nations Australians and people in other countries, on the characteristics of a place
General Capabilities: Critical and Creative Thinking, Personal and Social.
Cross-Curriculum Priorities: Aboriginal and Torres Strait Islander Histories and Cultures,
Recommended for grades 3-7.

Waru has been generously supported by the Girgensohn Foundation and the Restart Investment to Sustain and Expand (RISE) Fund – an Australian Government initiative.

Please complete the below form to inquire about experiencing HOTA Theatre Education Programs.
School Bookings
Subscribe now for Art in your inbox
News, special offers, events, competitions, and arts & culture updates on the Gold Coast. All the good stuff.