Coppélia
Presented by HOTA, in association with Queensland Ballet
Fri 1 - Sat 2 Nov 2024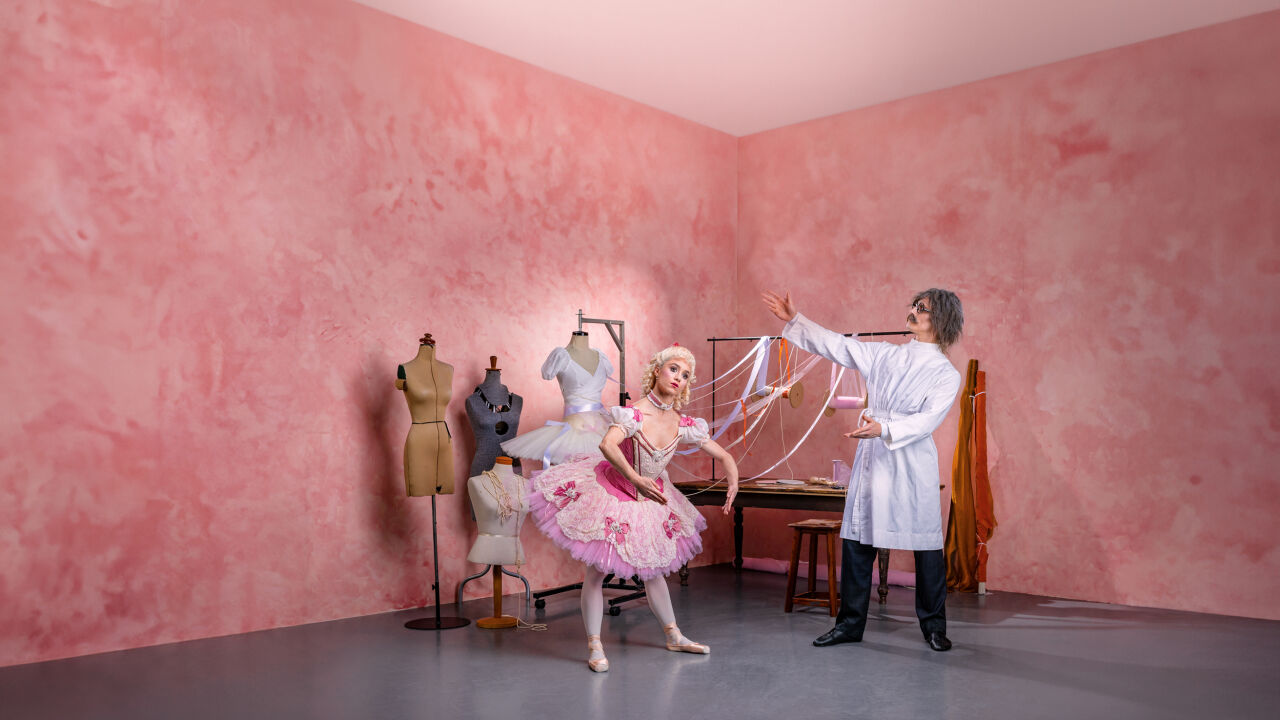 Love and mayhem collide in this airy, light-hearted ballet with Australian flair.
A beautiful, life-like doll and two quarrelling young lovers create comic chaos in this spirited Romantic-era ballet with a distinctly Australian flair.
Six years after the arrival of Dr Coppelius in their village, Swanilda and her friends are intrigued by Coppélia - the luminous young woman that appears on his balcony. Jealous of her sweetheart Franz's interest in the doctor's mysterious 'daughter', Swanilda sneaks into his house to confront her rival. But all is not as it seems - and when the doctor discovers Franz is another intruder, delightful mayhem follows!
Set in the sun-drenched South Australian town of Hahndorf in the late 19th century, Greg Horsman's Coppélia is a light-hearted, mischievous ballet that will charm audiences of all ages.
'This is a beautiful looking Coppélia; Hugh Coleman's sparse set design is awash with the browns, creams and greys of the Australian outback, framing a wide-open Australian sky of a cyclorama evocatively lit by Jon Buswell' Dance Australia
Presented by HOTA, Home of the Arts in association with Queensland Ballet

Dates
Fri 1 - Sat 2 Nov 2024
Where
Theatre 1
Warnings
Performance contains haze and smoke effects.
Duration
2 hrs and 10 mins (includes intervals)
Tickets
Early Bird - 10% discount*
HOTA Member - 15% discount*
Early bird sale ends Sun 31 Dec.
Automatically applied upon checkout*

Premium
Adult $85
Child $52
Senior/ Pension $79
Student $52
HOTA Member $74
HOTA Teachers & Artist Pass Holders $66
Groups (6+) $74

Standard
Adult $75
Child $42
Senior/ Pension $69
HOTA Member $64
HOTA Teachers & Artist Pass Holders $56
Groups (6+) $64
Times
Choreography Greg Horsman, after Arthur Saint-Léon and Marius Petipa
Music Lèo Delibes
Music Arranger and Conductor Nigel Gaynor
Costume Design Noelene Hill
Set Design Hugh Colman
Lighting Design Jon Buswell
Revival Lighting Design Cameron Goerg
Production performed to recorded music.

#Acknowledgments
A co-production of Queensland Ballet and West Australian Ballet, first performed in Brisbane, Australia, on 24 April 2014.

Coppélia is a classical ballet in three acts. Original libretto by Charles Nuitter, based on ETA Hoffmann's stories, Der Sandmann (The Sandman) and Die Puppe (The Doll).


Subscribe now for Art in your inbox
News, special offers, events, competitions, and arts & culture updates on the Gold Coast. All the good stuff.