There's a Sea in my Bedroom
Fri 22 - Sat 23 Jul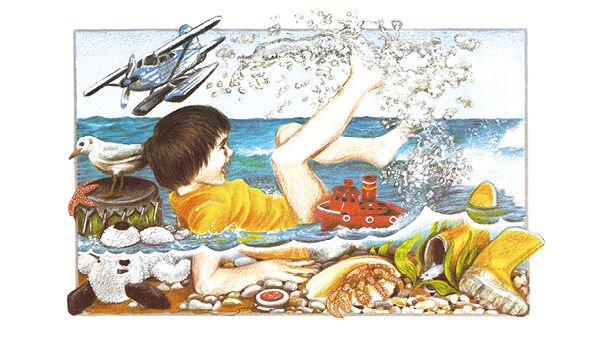 There's a Sea in my Bedroom
David is frightened of the sea. He does not like it at all, not one bit.
But one day he finds a conch shell at the beach and takes it home - and he hears the sea trapped inside.
'Come out, sea, come out,' he says softly. 'I won't hurt you.'
Based on the beloved children's book by award-winning author Margaret Wild, There's a Sea in My Bedroom is an immersive and theatrical introduction to live classical music, capturing the magic of a child's fantasy world.
Returning to the stage following a sell-out Sydney Opera House premiere season in 2019, this exquisite performance weaves together captivating storytelling with a specially commissioned score from Australian composer Paul Stanhope, performed live by a string quintet of ACO musicians.
HOTA, Home of the Arts and the Australian Chamber Orchestra are proud to present this beautifully reimagined story that promises to bring moments of joy, sadness, fear, magic, and laughter.
Auslan Interpreted - Fri 22 Jul, 10.30am

Presented by HOTA, Home of the Arts and Australian Chamber Orchestra

---
Reviews
'A magical first experience of theatre for one small boy.'Audience member
'The music was glorious. The chosen story was wonderful. It was so immersive.'Audience member
'Hats off to the ACO for programming such a quality inspiring experience for young Australians!'Tim McGarry, Writer and Director
---
Director's Note
Collaborating with the ACO and Paul Stanhope in the development of this new work has been an exceptional experience! I'm in total awe of Paul's composition – he's captured the inquisitive, imaginative and youthful charm of the piece in a stunning score - you can almost 'feel' the sea lapping at your feet. In developing the piece, we were cognisant of the fact that for many young people, this will be their very first theatre experience. Our aim? To capture the magical realism of the story in a sophisticated, imaginative and immersive format. I feel immensely proud of the work. Hats off to the ACO for programming such a quality inspiring experience for young Australians!
Dates
Fri 22 - Sat 23 Jul
Where
Lakeside Room
Ages
Kids and Families
Duration
30 mins
Tickets
Adult $22.50
Child $22.50
Pension $22.50
Student $22.50
HOTA Member $19
HOTA Artist Pass $17
Student (6+) $15
Times
Accessibility
Performance on Friday 22nd July at 10.30am is AUSLAN interpreted.
Credits
Illustration © Julie Vivas
To keep everyone safe while at HOTA we have a COVID Safe plan. Please make sure you keep up to date with Queensland Government guidelines at health.qld.gov.au.
View FAQs