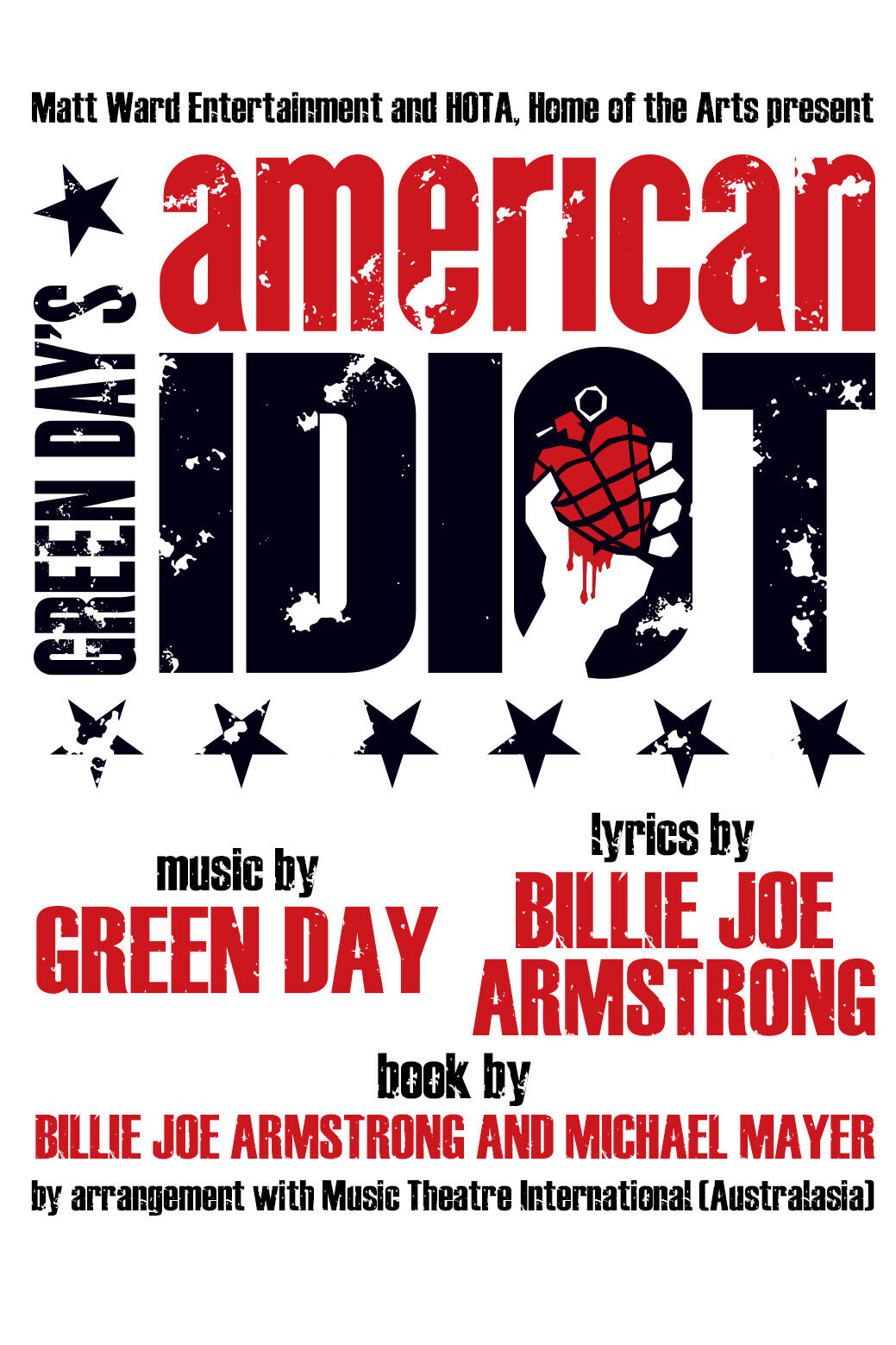 A Rock Musical on the Outdoor Stage
20-29 Oct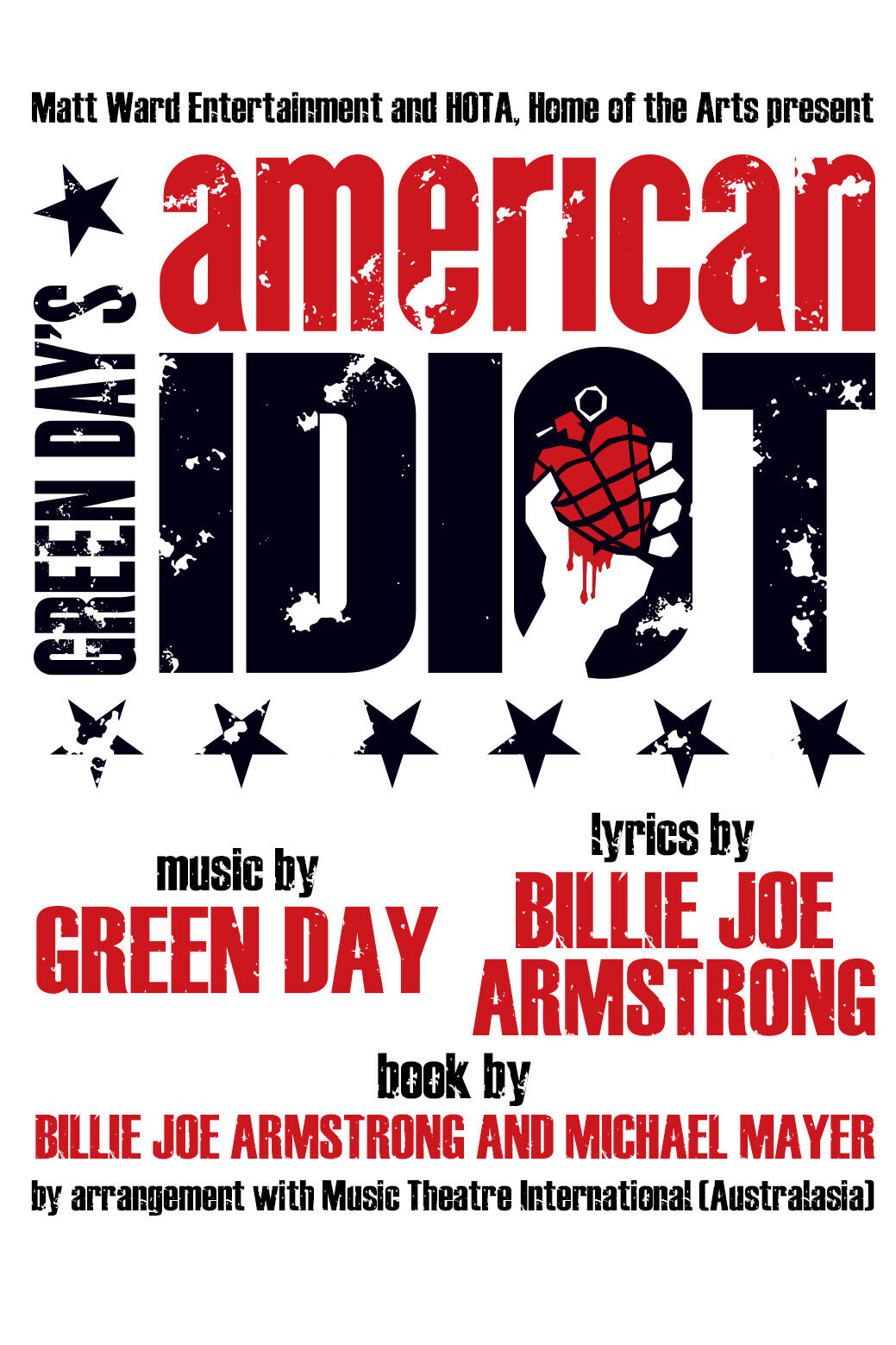 A Rock Musical on the Outdoor Stage
Green Day's loud, award-winning Broadway phenomenon American Idiot is getting set to take the Gold Coast by storm.
This energy-fuelled rock opera includes every song from Green Day's album American Idiot, as well as several songs from their follow-up release, 21st Century Breakdown.
The musical has had Green Day fans in rapture and introduced a generation of theatregoers to their grab-you-by-the-throat, emotionally-charged musical style.
Experience your favourite Green Day tracks, amplified by an incredible ensemble on the Gold Coast's most iconic stage, including Jesus of Suburbia, Boulevard of Broken Dreams, Know Your Enemy, Wake Me Up When September Ends and 21 Guns.

American Idiot comes to explosive life in a story that that sounds the unmistakable siren of a generational shift. Prepare for a head rush of rock richness that'll reverberate across the HOTA Concert Lawn. Loud. Entertaining. Limited.
Presented by Matt Ward Entertainment and HOTA, Home of the Arts

---
More Reviews
'Here's a musical to thrash to. Goodbye, orchestra pit; hello, mosh pit.Time Out New York
---
FAQs
This event is in Laid-Back mode. Read our FAQs here.
Dates
20-29 Oct
Where
Outdoor Stage
Ages
Recommended Ages 15+
Warnings
This performance includes all features of a great rock concert, including haze, strobe effects, smoke machine, coarse language, sexual references, drug references and adult themes. And why not - let's throw in some pyrotechnics too.
Duration
Gates open: 6pm
Pre-show band: 6.40pm
American Idiot: 7.30-9pm
Tickets
EARLY BIRD (Mon 18 July 9am-Mon 29 Aug 9am)
Rock Star Pit
Allocated Seating $120
Picnic-style (General Admission) $105

A Reserve
Adult $79
Conc $69

B Reserve
Adult $69
Conc $59

SECOND RELEASE (from Mon 29 Aug, 9am)
Rock Star Pit
Allocated Seating $140
Picnic-style (General Admission) $120​

A Reserve
Adult $99
Conc $89

B Reserve
Adult $89
Conc $79

Times
Credits
Music by Green Day
Book by Billie Joe Armstrong and Michael Mayer
Lyrics by Billie Joe Armstrong
By arrangement with Music Theatre International (Australasia)

Producer Matt Ward Productions Pty Ltd
Director / Choreographer Kelley Abbey
#Ticket Types
​Choose how you want to rock out.
Rockstar Pit - Limited Seats Available
In the Rockstar Pits, you'll be front and centre with VIP bar access. And because sometimes you just want to sit down and enjoy the show - we've got allocated seating available too.

EARLY BIRD (Ends Mon 29 Aug 9am)
Allocated Seating $120
Picnic-style (General Admission) $105

SECOND RELEASE
Allocated Seating $140
Picnic-style (General Admission) $120

A-Reserve
Lay back on your picnic rug (or basic camping chair) and enjoy the show or get up and rock when you want to.

EARLY BIRD (Ends Mon 29 Aug 9am)
Adult $79
Conc $69

SECOND RELEASE
Adult $99
Conc $89


B-Reserve
The view is great - of the show, and of the Surfers Paradise skyline in the background.

EARLY BIRD (Ends Mon 29 Aug 9am)
Adult $69
Conc $59

SECOND RELEASE
Adult $89
Conc $79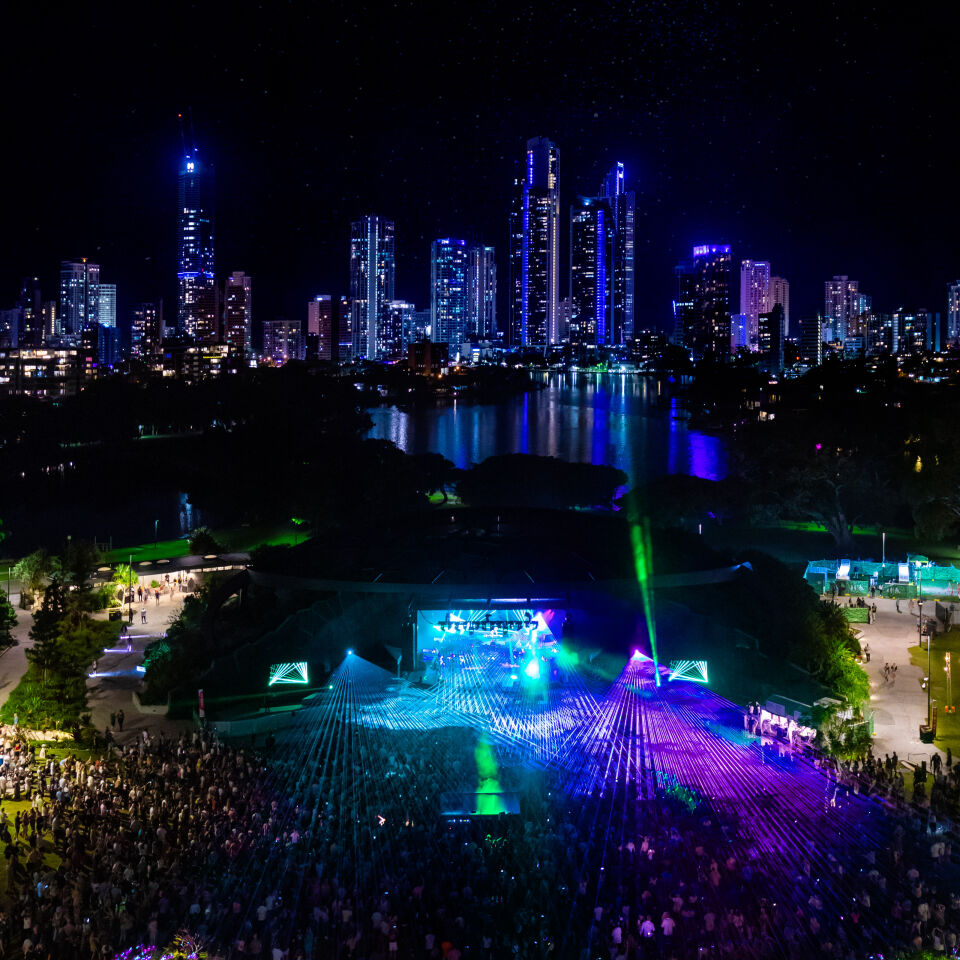 Only on the Gold Coast
Playing exclusively at HOTA for six shows only, this brand-new, outdoor production is from the team at Matt Ward Entertainment (Wicked, Mamma Mia, Priscilla), and directed and choregraphed Australian dance legend Kelley Abbey.

Kelley is Australia's most outstanding dance, actor, singer and choreographer, with a wealth of experience in performance and behind-the-scenes. From principal performer and choreographer in the Oscar winning box office smash Happy Feet, to performing the lead role in Sweet Charity on stage, starring in Aussie tv soap E-Street, and choreographing pop artists, movie stars and casts of thousand

Other musicals Abbey has choreographed include Follies at the Sydney Opera House, Footloose and most recently Hugh Jackman's The Boy from Oz in the Arena for which she won a Helpmann Award along with Kenny Ortega. She was also the associate director to Baz Luhrmann on Strictly Ballroom the musical.

'What I love about Queensland theatre is opportunity! I think people underestimate just what amazing theatre we produce here.'
Matt Ward, Interview in The Fame Reporter
The Story
Love. Loss. Sex. Rage. Rock and Roll.
Winner of two Tony® Awards and the Grammy® Award for Best Musical Show Album, American Idiot is the story of three boyhood friends, each searching for meaning in a post 9/11 world, discover love, loss, drugs, sex and rock and roll along the way.

Johnny, Tunny and Will struggle to find meaning in a post-9/11 world. When the three disgruntled men flee the constraints of their hometown for the thrills of city life, their paths are quickly estranged when Tunny enters the armed forces, Will is called back home to attend familial responsibilities, and Johnny's attention becomes divided by a seductive love interest and a hazardous new friendship.
Please note, masks are recommended at this time. To keep everyone safe while at HOTA we have a COVID Safe plan. Please make sure you keep up to date with Queensland Government guidelines at health.qld.gov.au.
View FAQs