Kungka Kuṉpu: Strong Women
17 Jun 2023 - 27 Aug 2023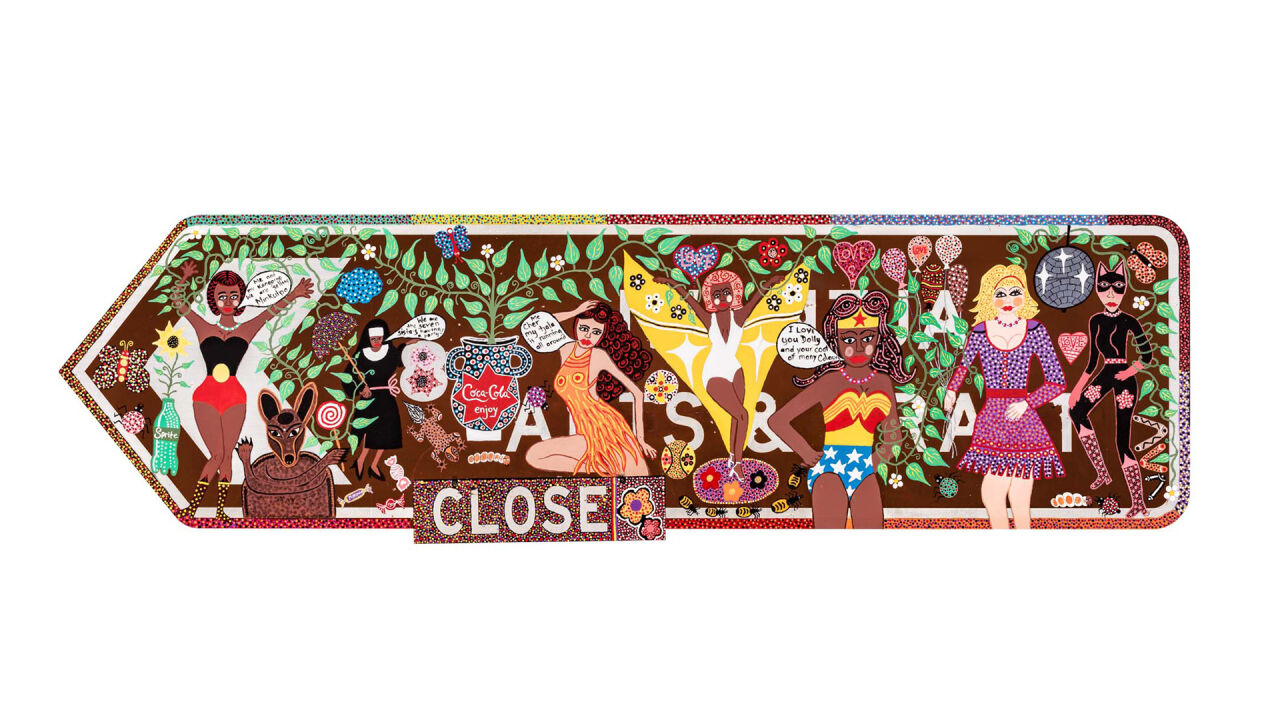 Kungka Kuṉpu: Strong Women
Drawn from AGSA's collection, Kungka Kuṉpu (Strong Women) showcases major contemporary works by celebrated women artists from the Aṉangu Pitjantjatjara Yankunytjatjara Lands – cultural custodians of an oral tradition that epitomises the art of storytelling. Working individually and collaboratively, these women leaders share an irrepressible desire to create ground-breaking works, deeply embedded with cultural knowledge and rich in ceremonial song and performance. Presented as part of AGSA's acclaimed Tarnanthi program, this regional touring exhibition reflects the adaptive genius, energy and dynamism of Aṉangu culture and the inspiring tale of women supporting each other across generations.
Key artists include Angkuna Baker, Kunmanara Wawiriya Burton, Nyunmiti Burton, Sylvia Ken, Kunmanara Militjari Pumani, Rhoda Tjitayi, Tjanpi Desert Weavers, Kaylene Whiskey and Yaritji Young – to name a few.
"The Seven Sisters story has always been important for Aṉangu women and it is more important today than ever before … This is the power of women leaders. We can make all the women coming behind us fly." Nyunmiti Burton
Image credit: Kaylene Whiskey, Yankunytjatjara people, South Australia, born Mparntwe (Alice Springs), Northern Territory 1976, Seven Sistas Sign, 2021, Indulkana, South Australia, water-based enamel paint on SA Tourist Attraction Road Sign, 75.0 x 270.0 x 3.0 cm; Acquisition through Tarnanthi: Festival of Contemporary Aboriginal & Torres Strait Islander Art supported by BHP 2022, Art Gallery of South Australia, Adelaide © Kaylene Whiskey/Iwantja Arts
Tarnanthi touring program presented by Art Gallery of South Australia
Tarnanthi is presented by the Art Gallery of South Australia with Principal Partner BHP and support from the Government of South Australia. The Kungka Kuṉpu touring exhibition has been assisted by the Australian Government's Visions of Australia program.
Please note, masks are recommended at this time. To keep everyone safe while at HOTA we have a COVID Safe plan. Please make sure you keep up to date with Queensland Government guidelines at health.qld.gov.au.
View FAQs