We've made it easy to make a school booking. You can:
1. Reserve tickets for students and pay over the phone by calling HOTA Box Office on (07) 5588 4000.
2. Reserve your tickets now and pay later by using our school booking online form.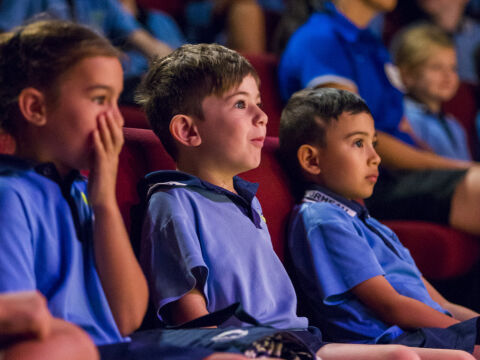 Teachers can reserve tickets for students to visit a performing arts show and/or take part in a performance-related workshops/Q&A.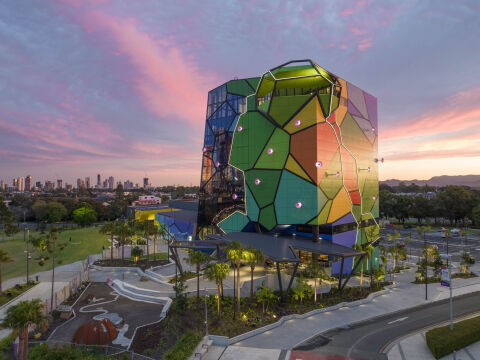 Teachers can reserve tickets for students to visit an exhibition and/or take part in visual art workshops.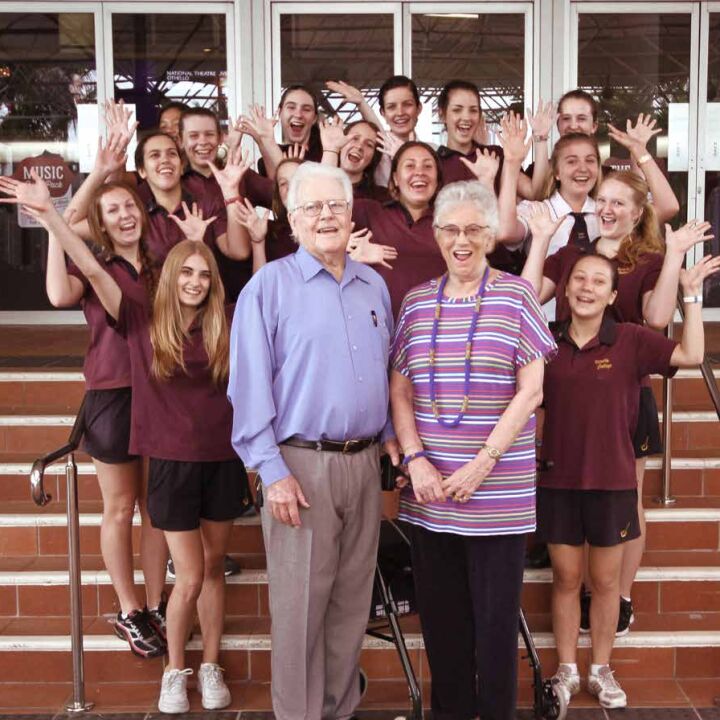 The Jock and Beverly McIlwain Arts Bus Fund is an initiative to assist in reducing the cost of bus travel to the Centre. Schools can apply to the fund to receive a one-off subsidy to contribute towards bus travel to see an exhibition, performance or participate in a workshop at HOTA.

The subsidies available are graded as per the below:
‣ Booking 99 students or under: $250.00 subsidy
‣ Booking 100 students or over: $500.00 subsidy
‣ If two or more buses are required to transfer your students to HOTA, a $500.00 subsidy may also be granted.
#Frequently asked questions
Where Do We Go When We Arrive?
Upon arrival, please introduce yourself to a member of our Front of House staff. They will be your best point of contact on the day and guide you to wherever you need to go.
Assembly Points
If you're visiting with your school or class, there will be a designated assembly area that caters to large groups. This information will be supplied to you once you've booked your visit.
School Bags
Ideally, school bags should be left on the bus; however, if necessary, students can place their school bags under their seats (if space allows) or in a dedicated storage space at HOTA Gallery.
Eating Areas
You'll have access to the HOTA Outdoor Precinct for lunch, morning tea, and breaks. From the lawn in front of the Outdoor Stage to picnic tables by the lake, there are a range of options for you to choose from.
Hota Café
HOTA Café serves a wide variety of food and drinks. If your group plans to dine at the HOTA Café, please let us know at the time of booking so we can ensure adequate space and service. Bulk takeaway orders are available for students and staff and require advance notice.

To directly make a booking in HOTA Café, please call on 07 5588 4087. Groups are always welcome to bring their own food and refreshments when visiting HOTA.
Bus Drop Off
Drop-offs can be made using the drive-through area at the entrance of HOTA Central. Bus Drivers are required to use their discretion when choosing the safest possible drop-off location.
Bus Parking
Bus Parking is available and located adjacent to the main carpark. Spaces are limited, so please have a back-up plan ready in the event that these spaces are full.
Ticket Collection
Collect your tickets from HOTA Box Office by sending ONE representative from your group to the desk. This will ensure the foyer isn't over-crowded and free from hazards.
Accessibility
We want everyone to have a great time when they come to HOTA. And we're committed to making sure the arts are accessible to everyone. Let us know if you will need any specific assistance when you arrive, and we'll make arrangements.

There are accessible parking spaces close to the front of HOTA Central and HOTA
Gallery, including designated setdown and pick up area in front of the main entrances.

For wheelchair users and people with mobility requirements there are ramps that provide access into all locations. Equal access toilets can be found in the main foyer of HOTA Central and on Level 3, 5 and the Lower Ground of HOTA Gallery.
Toilets
You'll find plenty of toilets conveniently located around HOTACentral, HOTA Precinct, and HOTA Gallery.
Art in your inbox
Get the best of HOTA delivered straight to your inbox.